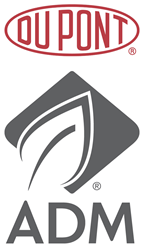 A demonstration plant for the technology in Decatur, Illinois, will be online later this year, and we and our partners at ADM look forward to making this technology a reality on a commercial scale.
WILMINGTON, Del. (PRWEB) August 25, 2017
Today, DuPont Industrial Biosciences (DuPont) and Archer Daniels Midland (ADM) were announced as joint winners of the 2017 Innovation in Bioplastics Award. The Bioplastics Council – a division of the Plastics Industry Association (PLASTICS) – honored the companies with the second annual award for their groundbreaking process to produce furan dicarboxylic methyl ester (FDME), a biobased monomer, from fructose.
The technological development has the potential to expand the materials landscape in the 21st century with exciting and truly novel, high-performance renewable materials, with applications in packaging, textiles, engineering plastics and many other industries. FDME is a high-purity derivative of furandicarboxylic acid (FDCA), one of the 12 building blocks identified by the U.S. Department of Energy, which can be converted into a number of high-value, bio-based chemicals or materials that can deliver high performance in a number of applications. Bio-based FDME has long been sought-after and researched, but has not yet been available at commercial scale and at reasonable cost. The technology developed by DuPont and ADM is a more efficient and simple process than traditional conversion approaches and results in higher yields, lower energy usage, lower capital expenditures and better performance.
"This molecule is a game-changing platform technology. It will enable cost-efficient production of a variety of renewable, high-performance chemicals and polymers with applications across a broad range of industries – including textiles, auto parts, food packaging and more," said Michael Saltzberg, global business director for biomaterials at DuPont. "A demonstration plant for the technology in Decatur, Illinois, will be online later this year, and we and our partners at ADM look forward to making this technology a reality on a commercial scale."
One of the first polymers under development that will use FDME is polytrimethylene furandicarboxylate (PTF), a novel polyester also made from DuPont's proprietary Bio-PDO™ (1,3-propanediol). PTF is a 100 percent renewable and recyclable polymer that, when used to make bottles and other beverage packages, substantially improves gas-barrier properties compared to other polyesters. This makes PTF a great choice for customers in the beverage packaging industry looking to improve the shelf life of their products.
"This project demonstrates how ADM is able to create value by providing new sustainable solutions that address unmet needs for customers," said Paul Bloom, vice president, process and chemical research for ADM. "Our unique partnership with DuPont is helping bring an innovative product to customers that uses renewable feed stocks but also helps improve performance, and we are excited about the team's continued progress as we near completion of construction of the demonstration project."
"The breakthrough process developed by DuPont and ADM provides a simpler, more efficient approach to producing FDME that will make bioplastics a competitive option in more applications across various industries," said Patrick Krieger, assistant director of regulatory and technical affairs at PLASTICS. "We are excited to honor a partnership that has opened the door to new possibilities for bioplastics with this award."
For more than a century, the people of Archer Daniels Midland Company have transformed crops into products that serve the vital needs of a growing world. Today, we're one of the world's largest agricultural processors and food ingredient providers, with approximately 32,000 employees serving customers in more than 160 countries. With a global value chain that includes approximately 500 crop procurement locations, 250 ingredient manufacturing facilities, 38 innovation centers and the world's premier crop transportation network, we connect the harvest to the home, making products for food, animal feed, industrial and energy uses. Learn more at http://www.adm.com.
DuPont Industrial Biosciences works with customers across a wide range of industries to make products and industrial processes more efficient and sustainable. Through a unique combination of agriculture, biotechnology, chemistry and material science capabilities, we advance market-driven, biobased solutions to meet the needs of a growing population, while protecting our environment for future generations. For updates about how DuPont Industrial Biosciences is helping customers deliver cost-effective products with superior performance and sustainability, follow @DuPontBiobased on Twitter or visit our website at http://biosciences.dupont.com.
DuPont (NYSE: DD) has been bringing world-class science and engineering to the global marketplace in the form of innovative products, materials and services since 1802. The company believes that by collaborating with customers, governments, NGOs, and thought leaders we can help find solutions to such global challenges as providing enough healthy food for people everywhere, decreasing dependence on fossil fuels, and protecting life and the environment. For additional information about DuPont and its commitment to inclusive innovation, please visit http://www.dupont.com.
The DuPont Oval logo, DuPont™ and all products, unless otherwise noted, denoted with ™, ℠or ® are trademarks or registered trademarks of E.I. du Pont de Nemours and Company or its affiliates.