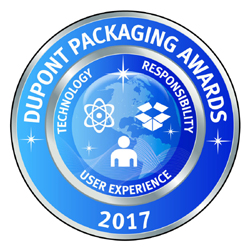 Wilmington, Del. (PRWEB) February 07, 2017
The submission deadline for the 29th DuPont Awards for Packaging Innovation has been extended to Feb. 17, 2017. Entry form and information are accessible at packagingawards.dupont.com.
The long-celebrated awards program distinguishes companies that have answered to the worldwide mandate for improvements in customer product experiences and sustainability. Entry is free and applicants are not required to use DuPont materials in the packaging assembly. The international panel of packaging leaders who serve as judges consider excellence in technological advancement, responsible packaging and enhanced user experience. Brand owners, retailers, packaging designers, converters and technology providers from around the world are encouraged to enter their packaging solution, provided it is commercially available.
DuPont Performance Materials (DPM) is a leading innovator of thermoplastics, elastomers, renewably sourced polymers, high-performance parts and shapes, as well as resins that act as adhesives, sealants, and modifiers. DPM supports a globally linked network of regional application development experts who work with customers throughout the value chain to develop innovative solutions in automotive, packaging, construction, consumer goods, electrical/electronics and other industries. For additional information about DuPont Packaging Awards, visit packagingawards.dupont.com.
DuPont (NYSE: DD) has been bringing world-class science and engineering to the global marketplace in the form of innovative products, materials, and services since 1802. The company believes that by collaborating with customers, governments, NGOs, and thought leaders we can help find solutions to such global challenges as providing enough healthy food for people everywhere, decreasing dependence on fossil fuels, and protecting life and the environment. For additional information about DuPont and its commitment to inclusive innovation, please visit http://www.dupont.com.
# # #
2/7/17