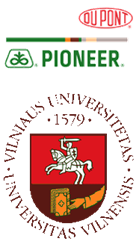 We congratulate Dr. Siksnys and the Institute of Biotechnology of Vilnius University for being awarded this patent which acknowledges significant contributions to the CRISPR-Cas field.
JOHNSTON, Iowa (PRWEB) May 02, 2017
DuPont Pioneer and Vilnius University today confirmed that the United States Patent and Trademark Office granted U.S. Patent Number 9,637,739 to Vilnius University for its broad claims relating to CRISPR-Cas technology. A team of scientists, led by Professor Virginijus Siksnys, from the Vilnius University Institute of Biotechnology was one of the first groups to discover that Cas9 proteins could be repurposed to precisely edit targeted sections of DNA to achieve a specific outcome.
"Our team is very pleased to receive a U.S. patent in recognition of our pioneering work demonstrating that Cas9 functions as a programmable nuclease for gene editing applications," said Siksnys.
"We congratulate Dr. Siksnys and the Institute of Biotechnology of Vilnius University for being awarded this patent which acknowledges significant contributions to the CRISPR-Cas field," said Neal Gutterson, vice president, Research and Development for DuPont Pioneer, the advanced plant genetics business of DuPont. "The Vilnius intellectual property is an important part of our IP portfolio for the use of CRISPR-Cas technology in agriculture."
The Vilnius patent claims are directed to methods of using CRISPR-Cas9 complexes assembled in vitro for site-specific modification of target DNA sequences. CRISPR-Cas9 complexes, referred to as CRISPR ribonucleoproteins or "RNPs," are contemplated for use in a wide variety of gene editing applications, including agriculture, industrial biosciences and therapeutic fields.
DuPont previously announced receiving exclusive rights to the Vilnius intellectual property (IP) for all commercial uses through a technology license from the university. The parties also are engaged in a multi-year research collaboration agreement to further the technical and commercial utility of CRISPR-Cas technology.
DuPont and Caribou Biosciences, Inc. subsequently announced the cross-licensing of their respective patent portfolios.
The DuPont patent estate comprises more than 60 patents and patent applications related to the use of CRISPR for bacteria identification and immunization. It also comprises patent applications related to CRISPR-Cas gene editing technology.
Pioneer is applying CRISPR-Cas as an advanced plant breeding tool to develop seed products for greater environmental resiliency, productivity and sustainability. Pioneer has defined CRISPR-Cas guiding principles which include helping enable others wanting to develop agricultural products using CRISPR-Cas by providing access to its IP, technology capabilities, infrastructure and scientific expertise.
Vilnius University (VU) has been an integral part of European education, scientific and cultural life since its establishment in 1579. VU actively participates in international scientific and academic activities, showing excellence in research and education. For additional information about VU please visit http://www.vu.lt/en. The Institute of Biotechnology (IBT) at Vilnius University is involved in research and training in the fields of biotechnology and molecular biology and serves as the locomotive of biomedical research in Lithuania. For additional information about IBT please visit http://www.ibt.lt/en/title.html
DuPont Pioneer is the world's leading developer and supplier of advanced plant genetics, providing high-quality seeds to farmers in more than 90 countries. Pioneer provides agronomic support and services to help increase farmer productivity and profitability and strives to develop sustainable agricultural systems for people everywhere. Science with Service Delivering Success®.
DuPont (NYSE: DD) has been bringing world-class science and engineering to the global marketplace in the form of innovative products, materials, and services since 1802. The company believes that by collaborating with customers, governments, NGOs, and thought leaders, we can help find solutions to such global challenges as providing enough healthy food for people everywhere, decreasing dependence on fossil fuels, and protecting life and the environment. For additional information about DuPont and its commitment to inclusive innovation, please visit http://www.dupont.com.
Forward-Looking Statements: This communication contains "forward-looking statements" within the meaning of the federal securities laws, including Section 27A of the Securities Act of 1933, as amended, and Section 21E of the Securities Exchange Act of 1934, as amended. In this context, forward-looking statements often address expected future business and financial performance and financial condition, and often contain words such as "expect," "anticipate," "intend," "plan," "believe," "seek," "see," "will," "would," "target," similar expressions, and variations or negatives of these words. Forward-looking statements by their nature address matters that are, to different degrees, uncertain, such as statements about the consummation of the proposed transaction and the anticipated benefits thereof. Forward-looking statements are not guarantees of future performance and are based on certain assumptions and expectations of future events which may not be realized. Forward-looking statements also involve risks and uncertainties, many of which are beyond the company's control. Some of the important factors that could cause the company's actual results to differ materially from those projected in any such forward-looking statements are: fluctuations in energy and raw material prices; failure to develop and market new products and optimally manage product life cycles; ability to respond to market acceptance, rules, regulations and policies affecting products based on biotechnology and, in general, for products for the agriculture industry; outcome of significant litigation and environmental matters, including realization of associated indemnification assets, if any; failure to appropriately manage process safety and product stewardship issues; changes in laws and regulations or political conditions; global economic and capital markets conditions, such as inflation, interest and currency exchange rates; business or supply disruptions; security threats, such as acts of sabotage, terrorism or war, natural disasters and weather events and patterns which could affect demand as well as availability of products for the agriculture industry; ability to protect and enforce the company's intellectual property rights; successful integration of acquired businesses and separation of underperforming or non-strategic assets or businesses; and risks related to the agreement entered on December 11, 2015, with The Dow Chemical Company pursuant to which the companies have agreed to effect an all-stock merger of equals, including the completion of the proposed transaction on anticipated terms and timing, the ability to fully and timely realize the expected benefits of the proposed transaction and risks related to the intended business separations contemplated to occur after the completion of the proposed transaction. The company undertakes no duty to publicly revise or update any forward-looking statements as a result of future developments, or new information or otherwise, should circumstances change, except as otherwise required by securities and other applicable laws.
# # #
5/2/17
®, ™, SM Trademarks and service marks of DuPont, Pioneer or their respective owners.