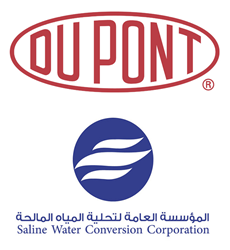 DuPont's experience in implementing operational improvement initiatives at their own facilities, and in the Kingdom, is an integral part of our improvement process.
WILMINGTON, Del. (PRWEB) May 30, 2017
Saudi Arabia's Saline Water Conversion Corporation (SWCC) is collaborating with DuPont Sustainable Solutions (DSS), the operations consulting business of DuPont, to improve operational performance and safety in the country's desalination facilities. SWCC is responsible for about 70 percent of the total production of desalinated water in Saudi Arabia. The collaboration will enhance the operational excellence and risk management processes at SWCC to ensure a sustainable water supply for the people of Saudi Arabia.
"Every activity taking place at SWCC now is to prepare for the privatization of the company. We want to create an environment that will allow SWCC to compete internationally so that ultimately, we have a sustainable business that the people of SWCC and Saudi Arabia can benefit from. DuPont's experience in implementing operational improvement initiatives at their own facilities, and in the Kingdom, is an integral part of our improvement process," said His Excellency Ali Al-Hazmi, governor of SWCC.
As part of SWCC's aspirations to privatize and align with Saudi Arabia's 2030 strategic objectives, the executive management decided to invest further in the transformation of its operations. While SWCC has long been committed to operational excellence, the implementation of these critical initiatives will enable SWCC to produce water in a more cost-effective way. DSS and its partners will start at some of SWCC's biggest facilities – plants, transmission lines and headquarters.
According to Abdullah al-Zowaid, deputy governor, Operations at SWCC, "This operational transformation project will aim at strengthening our practices in risk management and operational excellence. The initiatives selected will focus on developing leadership capabilities, maximizing productivity, reliability and cost optimization.
"We are excited to collaborate with SWCC and have invited strategic partners to support us in helping SWCC achieve its aspirations. Each partner will bring a unique set of best practices to ensure SWCC gets support from the world's leaders in their respective fields: Emerson to bring experience in automation and reliability, Riventa to provide expertise in water transmission and pumps, and GrahamTek with best practices in core desalination processes and technology," noted Johan van der Westhuyzen, regional director for DSS – Turkey, Middle East and Sub-Saharan Africa.
Jean-Paul Sacy, senior manager at DSS added, "Behavioral shift is at the core of the DuPont operational excellence approach and will play a key role in driving change through the SWCC organization. We are looking forward to progressively developing and empowering the SWCC team to drive continuous improvement into the future."
The Saline Water Conversion Corporation (SWCC) is a Saudi Arabian Government Corporation responsible for the desalination of seawater-producing electric power and supplying various regions with desalinated water. The corporation was established by royal decree as an independent government corporation. It aims to consolidate the natural water resource in various regions and cities where there are severe fresh water shortages through the process of desalination.
As one of eight businesses in DuPont, DuPont Sustainable Solutions (DSS) is a leading provider of world-class operations management consulting services to help organizations transform and optimize their processes, technologies and capabilities. DuPont Sustainable Solutions is a partner of choice for many industrial companies throughout the Middle East. As an owner/operator, DSS is in a unique position to help companies transform its operations and extract more value. DSS has been operating in the region for over 15 years, and has successfully assisted companies with safety, operations and environmental challenges. For more information, visit http://www.sustainablesolutions.dupont.com.
Emerson (NYSE: EMR), is a global technology and engineering company providing innovative solutions for customers in industrial, commercial and residential markets. Our Emerson Automation Solutions business helps process hybrid and discrete manufacturers maximize production, protect personnel and the environment while optimizing their energy and operating costs. Our Emerson Commercial and Residential Solutions business helps ensure human comfort and health, protect food quality and safety, advance energy efficiency, and create sustainable infrastructure. For more information visit Emerson.com.
Riventa specialize in pumping systems, delivering class-leading pump efficiency measurement solutions and pump optimization expertise to industry. Its team of hydraulic consultants work with a vast range of international clients, continually building on the company's proven track record in the reduction of costs, energy use and emissions. Its services include in-situ pump performance testing and real-time pump station monitoring, extending to entire network optimization projects. With offices in the U.K. and Asia, it is well placed to support the global water industry through our partnership with DuPont Sustainable Solutions. For more information, visit http://www.riventa.com.
GrahamTek Holdings is a manufacturer, global distributor and owner of its patented Water Purification, Water Desalination, Energy Storage and Waste-to-Energy systems. GrahamTek offer clients cradle to grave strategic implementation solutions to develop high-performance water treatment technology solutions for sustainable, commercially viable long term water supply. For more information visit http://www.gtek.org.za/.
DuPont (NYSE: DD) has been bringing world-class science and engineering to the global marketplace in the form of innovative products, materials, and services since 1802. The company believes that by collaborating with customers, governments, NGOs, and thought leaders we can help find solutions to such global challenges as providing enough healthy food for people everywhere, decreasing dependence on fossil fuels, and protecting life and the environment. For additional information about DuPont and its commitment to inclusive innovation, please visit http://www.dupont.com.
# # #
5/30/17
The DuPont Oval Logo, DuPont™, and all products, unless otherwise noted, denoted with ™, SM or ® are trademarks or registered trademarks of E. I. du Pont de Nemours and Company or its affiliates.