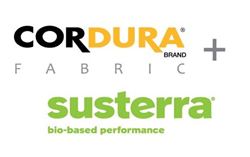 Now, designers of apparel, footwear and gear will have access to innovative durable performance fabrics that incorporate plant-based materials based on high-performance coating and membranes from DuPont Tate & Lyle.
WILMINGTON, Del. (PRWEB) May 09, 2017
Leading apparel, footwear and gear brands are demanding innovative eco-efficient solutions. INVISTA's CORDURA® brand, in partnership with DuPont Tate & Lyle Bio Products, brings the first in a series of eco-innovations to Techtextil, driving the future use of new sustainable textiles. Based on the combination of the legendary long-lasting durability of CORDURA® fabrics married with the bio-based performance of Susterra® membranes and coatings, the first cutting-edge innovations resulting from this collaboration will be on display at INVISTA Stand G25, Hall 4.1 at Techtextil, May 9-12, 2017, in Frankfurt, Germany.
"We continue to look at ways that we can benefit the environment as part of our innovation continuum – and CORDURA® fabrics can do this by helping to increase a product's utility and durability," explained Cindy McNaull, global CORDURA® brand and marketing director. "As the textile market continues to look for innovative solutions to help reduce its environmental footprint, we want to provide long-lasting products that need to be replaced less often. Through our recent collaboration with DuPont Tate & Lyle's Susterra® brand, designers of apparel, footwear and gear will have access to a wide variety of durable fabric technologies that incorporate high performance coatings and membranes based on plant-based materials."
Tiong Liong, the first authorized mill for footwear and gear as part of the CORDURA® + Susterra® brand collaboration, is dedicated to developing product innovations with eco-effiicency in mind. This is why some of the first composite textiles utilizing the Susterra® propanediol thermoplastic polyurethane membranes incorporate CORDURA® EcoMade fabrics made with recycled polyester yarns as well as Tiong Liong's own Ariaprene™ foam. Ariaprene™ foam uses a certified Bluesign® system water-based lamination process that is designed for non-skin irritation and does not off-gass harmful pollutants throughout the product lifecycle. Durable, solvent-free, renewable, and recycled are the key descriptors that describe the exciting new developments coming from Tiong Long's CORDURA® + Susterra® developments.
Everest, the first apparel fabric mill brought into this collaboration, has the ability to incorporate bio-based membranes and coatings based on Susterra® propanediol from DuPont Tate & Lyle into a variety of CORDURA® brand fabrics. At Techtextil, Everest will highlight how CORDURA® Naturalle™ fabrics incorporated with a polyurethane bio-based membrane containing more than 25 percent renewable sourced materials by weight are engineered to help keep your body dry and comfortable in all kinds of weather. The Susterra® propanediol based membrane demonstrates good hydrolysis resistance, excellent low temperature flexibility and elasticity thus allowing the membranes to be incorporated with stretch fabrics for added mobility.
"Eco-innovations in the industry can take the shape in many forms from renewably sourced products, to long-lasting durability to recycled materials," stated Laurie Kronenberg, global marketing director, DuPont Tate & Lyle Bio Products. "This is exactly what we had in mind as we engaged our first apparel, footwear and gear fabric mill collaboration partners, Tiong Liong and Everest. We worked with eco-efficiency in mind to develop solutions for those brands demanding bio-based, sustainable, performance materials across a variety of markets."
About Tiong Liong Industrial Co
Tiong Liong Industrial Co., Ltd. was founded in 1976 from a small-scale laminating factory, and has evolved to offer textile manufacturing, dyeing, hi-tech coating and lamination in Taiwan, China, Northern and Southeastern Asia, North America and Europe. TLC aims to offer a "one-stop" shopping platform for its customers, with its main markets including approximately 80 percent footwear, 20 percent apparel and a small percentage of accessories. http://www.tioliong.com.tw
About Everest
Everest is an R&D oriented and vertically integrated textile manufacturer that specializes in yarn texturizing, weaving, dyeing, printing, post-finishing process, coating and lamination. Everest's products are utilized by the best sports, outdoor and casual clothing leading brands in the world. Everest has three plants (Taiwan, China, Thailand) and 10 sales offices in major cities of the world. http://www.everest.com.tw.
About CORDURA® Brand
INVISTA's CORDURA® brand essence celebrates individual durability: As Long As The World Is Full Of Durable People, We'll Keep Making Durable Fabrics™. Known for its resistance to abrasions, tears and scuffs, CORDURA® fabric is a primary ingredient in many of the world's leading high-performance gear and apparel products ranging from luggage, upholstery and backpacks to footwear, military equipment, tactical wear, workwear and performance apparel. The CORDURA® brand is a registered trademark of INVISTA, one of the world's largest integrated polymer, intermediates and fibers businesses. To distinguish the CORDURA® brand, the word "CORDURA®" must be spelled out in all caps and used with an ®, and it must be followed by the word "brand" or "fabric." To learn more about INVISTA's CORDURA® brand, end-use products, and marketing tools please visit http://www.CORDURA.com and follow us on Facebook, Twitter, Instagram, LinkedIn and YouTube.
About INVISTA
With leading brands including LYCRA®, COOLMAX®, CORDURA®, STAINMASTER® and ANTRON®, INVISTA is one of the world's largest integrated producers of chemical intermediates, polymers and fibers. The company's advantaged technologies for nylon, spandex and polyester are used to produce clothing, carpet, car parts and countless other everyday products. Headquartered in the United States, INVISTA operates in more than 20 countries and has about 10,000 employees. For more information, visit INVISTA.com, or our Facebook and Twitter pages.
About DuPont Tate & Lyle
DuPont Tate & Lyle Bio Products is a joint venture between DuPont, a global science company, and Tate & Lyle, a world-leading renewable food and industrial ingredients company. DuPont Tate & Lyle Bio Products provides natural and renewably sourced ingredients that enhance product performance. For more information on Susterra® propanediol, visit http://www.Susterra-performs.com to see the solutions we offer across a wide variety of markets and applications.
# # #
05/09/17
Susterra® and the circle logo are registered trademarks of DuPont Tate & Lyle Bio Products
Naturalle™, LYCRA®, COOLMAX®, CORDURA®, STAINMASTER® and ANTRON® are registered trademarks of INVISTA.
ARIAPRENE is a trademark of TIONG LIONG INDUSTRIAL CO., LTD.