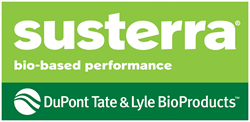 The low viscosity of this 'Greenway® Neo' coolant improves circulation through the heat exchanger. It is therefore not necessary to replace the refrigeration unit.
WILMINGTON, Del. (PRWEB) May 02, 2017
Bio-based, more sustainable heat transfer fluids demonstrate advanced performance at the sparkling wine production facility of Rivarose situated in Salon de Provence, France. DuPont Tate & Lyle Bio Products understands that effective heat transfer is crucial for beverage manufacturing. That is why it works with leading heat transfer fluid manufactures, such as Climalife, who leverage Susterra® propanediol, bio-based glycol, as the primary ingredient in their range of Greenway® Neo heat-transfer fluids.
Precise temperature control in sparkling wine production is imperative. Nicolas Quiles, technical director and oenologist at Rivarose explains, "We use the temperature to regulate the fermentation and to lower the pressure of the wine during bottling. Thus, when the wine arrives in the bottle, it does not foam. At room temperature, the slightest impurity would cause the wine to react and cause it to lather."
Smef Azur, a specialist in thermal installation, was asked to review Rivarose's refrigeration system in order to ensure the continuity of its process during a critical capital project. One of Rivarose's goals was to continue to use their existing refrigeration unit to support the increase in production. After an in-depth study supported by Climalife on all the technical characteristics of the Greenway® Neo fluid, Jean-Pierre Leplatre, technical director of Smef Azur, advised Rivarose to opt for this innovative and more sustainable solution based on DuPont Tate & Lyle's Susterra® propanediol.
"As an installer, we have a duty to advise. It is important for us to follow technical developments and advocate the best solution. At Smef Azur, innovation and the protection of the environment is in our genes," states Leplatre. "The low viscosity of this 'Greenway® Neo' coolant improves circulation through the heat exchanger. It is therefore not necessary to replace the refrigeration unit."
The transition from propylene glycol to the Susterra® glycol reduces the pressure drop by 20 – 30 percent and reduces the energy consumption of all the pumping equipment by approximately 20 percent. The facility is able to bring five more fermentation tanks online, a 20 percent production increase, with the same cooling unit and avoid the capital investment of replacing the exiting refrigeration unit.
DuPont Tate & Lyle Bio Products will be highlighting this case study while presenting, "Improving Heat Transfer Fluid Performance across Beverage Manufacturing Cooling Processes," at the International Society of Beverage Technologist (ISBT) annual meeting, May 9, 2017, in Tampa, Fla. For the full case study on Rivarose please visit http://www.duponttateandlyle.com/susterra-technical-information.
Established in 1909, Rivarose is situated in Salon de Provence and is now Provence's oldest and largest producer of sparkling wines. Rivarose has been part of the Veuve Ambal group since 1998 and is recognized as a leader in the Crémant de Bourgogne market.
Smef Azur was founded in 1985. The company's line of business includes providing plumbing, heating, air-conditioning and similar work.
For more than a century, Climalife has been Europe's specialist in cooling fluids for refrigeration and air conditioning. Its activeness and commitments in terms of quality and protecting the environment also have enabled it to gain cutting-edge expertise in the fields of heating and renewable energy. For more information on Greenway® fluids, visit http://www.climalife.dehon.com/; and to read more about the Rivarose installation and other case studies, please visit http://climalife.dehon.com/our-bulletins and read "Climalife Contact N ° 11."
DuPont Tate & Lyle Bio Products is a joint venture between DuPont, a global science company, and Tate & Lyle, a world-leading specialty ingredients and solutions company. DuPont Tate & Lyle Bio Products provides natural and renewably sourced ingredients that enhance product performance. For more information on Susterra® or Zemea® propanediol, visit duponttateandlyle.com to see the solutions we offer across a wide variety of markets and applications.
# # #
05/02/17
Susterra® and the circle logo are registered trademarks of DuPont Tate & Lyle Bio Products Company, LLC, for its brands of bio-based propanediol. All rights reserved.