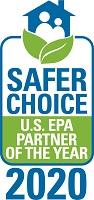 "We are honored to be recognized by the EPA for our commitment to advancing and promoting Safer Choice labeled products and expanding our ability to meet growing consumer expectations," said Wayne Ashton, global business director, Home & Personal Care at DuPont.
WILMINGTON, Del. (PRWEB) September 25, 2020
DuPont Nutrition & Biosciences (DuPont) today announced that it has been named the U.S. Environmental Protection Agency (EPA) 2020 Safer Choice Partner of the Year winner for furthering the safer chemistry and product goals of the Agency's Safer Choice program. This program helps consumers identify cleaning solutions that the EPA considers safe for both human health and the environment with a label on cleaning products.
DuPont Nutrition & Biosciences was recognized under the Innovator category as a manufacturer of enzyme technology applied in Safer Choice-certified cleaning products. By using enzymes – a leading "Green Chemistry" technology – DuPont is able to provide its customers with a range of sustainable solutions, such as cold water laundry enzymes or high-performance dish enzymes that enable consumers to save energy during the cleaning process.
DuPont's enzymes, which are present in many of the EPA Safer Choice cleaning products on the market, prompt natural catalysis, enable use of renewable feedstocks and are designed for energy efficiency and biodegradability.
"We are honored to be recognized by the EPA for our commitment to advancing and promoting Safer Choice labeled products and expanding our ability to meet growing consumer expectations," said Wayne Ashton, global business director, Home & Personal Care at DuPont. "As consumers continue to value mindful consumption and product transparency, this award well positions us to help household cleaning product manufacturers meet this consumer expectation for safer products, while still delivering on performance. Along with our large portfolio of enzymes, and understanding of market dynamics, this award serves to highlight DuPont's leadership in the enzyme technology space."
DuPont Home and Personal Care (HPC) has long centered its Safer Choice strategy on fast and reliable responses to customer needs in different application areas. Elements of the strategy included:
1. Expanding DuPont's CleanGredient™ product portfolio. In 2019, eight new CleanGredient™ products were approved, bringing the total to 12 products in the CleanGredient™ portfolio.
2. Factoring Safer Choice criteria in DuPont's innovation projects and new products for use in Safer Choice-certified products. DuPont has a proactive approach on enzyme development and formulation ingredient selection where Safer Choice criteria are factored into the product development process. Enzyme innovation coupled with product reformulations resulted in 34 enzyme ingredients that met Safer Choice criteria in 2019, making it simpler for customers to reliably achieve their own sustainability goals.
3. Implementing a strong internal process to support customer Safer Choice requests. In 2019, DuPont successfully processed seven Safer Choice customer applications, bringing the total number of completed Safer Choice customer applications to 21 since 2017.
4. Educating key stakeholders. DuPont worked to increase internal and external knowledge of its CleanGredient™ portfolio and the broader Safer Choice program through trainings and educational outreach.
5. Communication efforts to promote Safer Choice commitments. DuPont created promotional materials, including externally-facing articles and product brochures, to market its CleanGredient™ portfolio and raise awareness for the broader Safer Choice program.
This strategy has contributed to increased use of DuPont enzymes in detergent products with Safer Choice labels, enabling consumers to make informed decisions on purchasing safe products for their families.
"At DuPont, we have a strong sustainability tradition that centers around the mission of providing innovative solutions for the planet and its people," said Ashton. "This award demonstrates that commitment by acknowledging the work we have done and continue to do to by providing consumers with sustainable solutions that bring life cycle benefits associated with environment impacts."
To qualify for the Safer Choice label, a product must meet EPA's Safer Choice Standard. This includes stringent human and environmental health criteria. The Safer Choice program currently partners with approximately 400 formulator-manufacturer partners that make roughly 2,000 Safer Choice-certified products for both retail and institutional customers.
More information on the 2020 Safer Choice Partner of the Year award winners can be found at http://www.epa.gov/saferchoice/safer-choice-partner-year-awards.
About DuPont Nutrition & Biosciences
DuPont Nutrition & Biosciences applies expert science to advance market-driven, healthy and sustainable solutions for the food, beverage, dietary supplement and pharmaceutical industries. We also use cutting-edge biotechnology across a range of markets to advance bio-based solutions to meet the needs of a growing population, while protecting our environment for future generations. We are innovative solvers who help our customers turn challenges into high-value business opportunities. For more information: http://www.dupontnutritionandbiosciences.com.
About DuPont
DuPont (NYSE: DD) is a global innovation leader with technology-based materials, ingredients and solutions that help transform industries and everyday life. Our employees apply diverse science and expertise to help customers advance their best ideas and deliver essential innovations in key markets including electronics, transportation, construction, water, health and wellness, food, and worker safety. More information can be found at http://www.dupont.com/.
DuPont™, the DuPont Oval Logo, and all trademarks and service marks denoted with ™, SM or ® are owned by affiliates of DuPont de Nemours, Inc. unless otherwise noted.