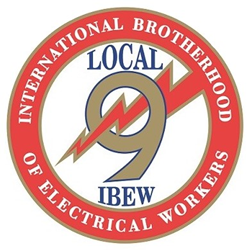 I tell guys at work this is something you need to look into. Especially these young guys with kids, apprentices. They don't have a lot of money saved. This is something you're going to want. If something happens outside of work and if you have a serious injury, how are you going to pay your bills
TINLEY PARK, Ill. (PRWEB) October 25, 2018
While on vacation with his wife, 43 year old, Chris Morley suffered a hernia injury that left him out of work for an extended period of time.
"I was on vacation at a destination wedding with a bunch of friends, and we were playing dodgeball in the pool. I felt my abdominal rip as I threw this ball across the pool. I had suffered a hernia injury," stated Morley. "It brought back a lot of memories of past problems I had outside of work. Injuries and down time and how am I going to pay whatever bills need to get paid."
Morley, a Local 9 IBEW lineman out of Chicago, previously enrolled in supplemental disability insurance offered by Cornerstone Benefits Management through his Union. The Union Officials of IBEW Local 9 offer the supplemental insurance in case its members need income protection from an unexpected injury, illness or death. Members are offered the chance to enroll in guaranteed approved disability benefits that replace up to 60% of their income for up to 10 years. They can also elect Life Insurance for themselves, their spouse, or for their children. The plan allows members who do become disabled outside of work the financial health to support their physical recovery.
"I heard about the supplemental insurance when I got a flyer in the mail, and then I started looking into it. Asking guys around the Union hall what they thought," Morley explained. "I had been thinking about getting something like that for the last few years to protect me and my family if I ever had any accidents outside of work... Me and my wife had talked about it. We decided that it would be a good thing for us to have."
After the accident, Morley contacted a Claims Advocate at Cornerstone Benefits Management. The Claims Advocate handled his claim and filed his paperwork for him. After submitting the claim, Morley was able to take time off of work while receiving income to pay his bills. He recovered at home for a few months until his doctor cleared him to work again. Morley now urges other Union members to also consider enrolling in supplemental disability insurance.
"I tell guys at work this is something you need to look into. Especially these young guys with kids, apprentices. They don't have a lot of money saved. This is something you're going to want. If something happens outside of work and if you have a serious injury, how are you going to pay your bills... We all highly recommend it. It's just a good idea to have as much insurance as you can to take care of the family."
IBEW 9 Annual Open Enrollment started on September 15th and ends on November 30th. In addition to guaranteed approved Life, Short-Term Disability, and Long-Term Disability, members are now able to enroll in two new products—Critical Illness (with Cancer) and Accident Insurance. For more information about Open Enrollment for IBEW 9, visit: https://uniondisability.com/groups/ibew-9/ or call 224-770-5305.
About IBEW Local 9:
IBEW Local 9 represents men and women who perform outside electrical work in the following fields:

Cable Television and Telephone
Government
Line Clearance Tree Trimming
Outside Construction and Distribution
Utility
Local 9 contracts include Chicago Park District, Chicago Transit Authority, City of Chicago, City of Naperville, Town of Cicero, Village of Elmwood Park, Village of Oak Park, outside electrical construction with the Middle States Electrical Contractors Association, Line Clearance Tree Trimming, and the Metropolitan Water Reclamation District of Greater Chicago. For more information, visit https://www.ibew9.org/
About Cornerstone Benefits Management:
Cornerstone, based out of Lake Barrington, IL, works exclusively with Unions to provide members access to insurance benefits and rates they may not qualify for individually. They insure over 70,000 members. In 2017, plans that Cornerstone administered paid members and their families more than $15MM in benefits. For more information, visit https://uniondisability.com/