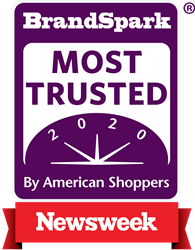 NEW YORK (PRWEB) April 02, 2020
Today BrandSpark International announced the winners of the 7th annual BrandSpark® Most Trusted Awards ("BMTA") based on results from the most extensive trust study in America, the BrandSpark® American Trust Study. Shoppers voted for the brands that they trust the most in 175 categories ranging from Food & Beverage, Health, Beauty, Household, Pet, Home Goods, and Tech. BrandSpark bestows these exclusive awards each year to help consumers shop smarter and to help brands easily announce themselves as the leader in the category.
"Americans look for transparency and dependability from the brands they buy and this is particularly true in these uncertain times," says Robert Levy, President of BrandSpark International.
This year, BrandSpark has partnered with premier news magazine brand Newsweek to shine a bright light on these award-winning brands. The partnership will include features of the winners in print and digital formats, targeted communications to readers and unique high-value advertising opportunities for brands anchored by editorial content. The BrandSpark Most Trusted Awards has updated its highly influential logo to include the iconic and instantly recognizable Newsweek logo to generate even more impact for shoppers and brands.
"Consumers have been rapidly shifting their shopping online over the past days and weeks, accelerating the trend that has been underway for a few years now," Levy says. "The tremendous increase in choice online poses a real challenge for consumers and brands. BrandSpark has proven that our BMTA logo helps brands stand out and drives incremental sales both online and within traditional retail environments."
Research from the study is available to both leading and challenger brands in each category to benchmark where they rank on trust, how deeply their consumers trust them, and to quantify their strength on key drivers of trust including quality, price-value, word-of-mouth, shared values, transparency, heritage, and innovation. BrandSpark has also developed a proprietary and innovative BrandSpark Shopper Trust and Stubbornness Framework to help brands improve their understanding around brand trust.
The following is the list of brands that the most Americans count on to deliver on their promises:
The list of Winners is below. To learn more visit http://www.BrandSparkMostTrusted.com
*= first time studying the category
Baby & Kids
Baby Bottle: Dr. Brown's
Baby Food: Gerber
Baby Formula: Enfamil
Baby Laundry Detergent: Dreft
Baby Lotion: Johnson's Baby
Baby Monitor: VTech
Baby Probiotics *: Culturelle
Baby Wash / Shampoo: Johnson's Baby
Baby Wipes: Huggies
Breast Pump: Medela
Children's Coloring *: Crayola
Children's Thermometer: Braun
Children's Toothbrush: Colgate
Children's Toothpaste: Crest
Children's Vitamins: Flintstones
Colic Relief *: Little Remedies
Diaper Pail *: Diaper Genie by Playtex
Diapers: Pampers
Infant / Toddler Car Seat: Graco
Infant Learning Toys *: Fisher-Price
Natural Baby Products: The Honest Company
Nursing Pads: Lansinoh
Organic Baby Snacks *: Gerber
Pregnancy Test: First Response
Stroller: Graco
Toddler Learning Toys: Fisher-Price
Training Pants Huggies: Pull-Ups
Food & Beverage
Artisan Flatbread: Stonefire
Baking Products: Gold Medal
Better-For-You Frozen Meals: Lean Cuisine
Butter: Land O'Lakes
Cake Mix: Betty Crocker
Canned Tuna: StarKist
Chocolate: Hershey
Coffee: Folgers
Cooking Oil Spray *: Pam
Cream Cheese: Philadelphia
Eggs: Eggland's Best
Frozen Pizza: DiGiorno
Frozen Potato Products: Ore-Ida
Gluten Free Bread *: Udi's
Gluten Free Snacks *: Annie's / Glutino / Kind
Grape Juice *: Welch's
Herbs & Spices: McCormick
Hot Dogs: Oscar Mayer
Icelandic Yogurt *: Siggi's
Instant Rice: Minute Rice
Jam: Smucker's
Jerky: Jack Link's
Mayonnaise: Hellmann's
Natural Peanut Butter *: Jif
Non-dairy Milk Alternative: Silk
Oatmeal: Quaker
Organic Mac and Cheese *: Annie's
Pasta: Barilla
Plant-based Meat Substitute *: MorningStar Farms
Popcorn: Orville Redenbacher's
Premium Coffee *: Starbucks
Sausages: Jimmy Dean
Sour Cream: Daisy
Tea: Lipton
Vegan Food: MorningStar Farms
White Bread *: Wonder
Health & Beauty
Allergy Relief: Benadryl / Claritin / Zyrtec
Anti-aging Skin Care Products: Olay
Bladder Leakage Protection: Poise
Body Lotion: Jergens
Body Wash: Dove
Cold Sore Remedy: Abreva
Contact Lens Solution: Bausch & Lomb
Cough Drops / Lozenges: Halls
Denture Adhesive: Fixodent
Denture Cleanser: Polident
Electric Toothbrush: Oral-B
Fiber Supplement: Metamucil
Foundation: Covergirl
Hair Regrowth Products: Rogaine
Hair Removal: Nair
Hair Root Touch-up *: Clairol
Laxative: Dulcolax
Liners / Pads: Always
Lip Color: Revlon
Luxury Skin Care Products over $50 *: Estée Lauder / Lancôme
Mascara: Maybelline
Men's Antiperspirant/Deodorant: Old Spice
Men's Shaving: Gillette
Micellar Water: Garnier
Mouthwash: Listerine
Nail Polish: OPI / Sally Hansen
Nasal Spray: Flonase
Natural Cosmetics: bareMinerals / Burt's Bees
Natural Deodorant *: Tom's of Maine
Natural Skin Care Products: Aveeno / Burt's Bees / Neutrogena
Probiotic Supplements: Culturelle
Sensitive Skin Care Products: Aveeno
Sensitive Toothpaste: Sensodyne
Shampoo & Conditioner: Suave
Shampoo & Conditioner for Colored Hair *: Pantene
Sunscreen: Coppertone
Tampons: Tampax
Teeth Whitening: Crest
Upset Stomach Relief: Pepto-Bismol
Women's Deodorant / Antiperspirant: Secret
Women's Hair Color: L'Oréal
Women's Shaving: Gillette Venus
Household
Air Freshener: Febreze
All-purpose Cleaner: Lysol
Bathroom Tissue / Toilet Paper: Charmin
Dish Soap: Dawn
Dishwasher Cleaner: Cascade
Dishwasher Detergent: Cascade
Dog Treats: Milk-Bone
Dryer Sheets: Bounce
Fabric Softener: Downy
Facial Tissues: Kleenex
Flea & Tick Prevention: Frontline
Floor Cleaner: Mr. Clean / Pine-Sol / Swiffer
Food Storage Bags: Ziploc
Food Storage Containers: Rubbermaid / Ziploc
Garbage Bags: Hefty
Hand Soap: Softsoap
Insect Control: Raid
Insect Repellant: OFF!
Laundry Detergent: Tide
Laundry Scent Booster (In-wash) *: Downy
Laundry Stain Remover: Shout
Laundry Wrinkle Protection *: Downy
Multi-purpose Disinfecting Cleaner: Lysol
Paper Towels: Bounty
Home Goods
Air Fryer *: Ninja
Barbecue: Weber
Clothes Iron *: Black & Decker
Cookware: Calphalon
Dishwasher: Whirlpool
Drink Carbonation System: SodaStream
Electric Facial Cleansing Device *: Clarisonic
Electric Fan *: Lasko
Electric Hair Straightener *: Conair
Espresso Maker: Keurig / Nespresso
Faucet *: Moen
Hair Curling Iron *: Conair
Hair Dryer *: Conair
Humidifier: Vicks
Luggage *: Samsonite
Mattress-in-a-box: Purple
Single Serve Coffee Maker: Keurig
Slow Cooker *: Crock-Pot
Space Heater *: Lasko
Spring Mattress *: Serta
Vacuum: Bissell / Dyson / Shark
Washer / Dryer: Maytag / Whirlpool
Tech
4K Television *: Samsung
Chromebooks *: Google / HP
Dash Camera *: Garmin
Digital Camera *: Canon
Gaming Laptop *: Alienware / Dell
Headphones *: Sony
Home Theatre *: Sony
Laptop Over $1000 *: Apple
Laptop Under $1000 *: HP
Phone Case *: OtterBox
Portable Speaker *: Bose
Smart Doorbell *: Ring
Smart Home Monitoring / Cameras*: Ring
Smart Lighting *: Philips
Smart Lock *: Schlage
Smart Thermostat: Google Nest
Sound Bar *: Bose / Samsung / Sony
Virus Protection *: Norton
Wearable Fitness Tracker *: Fitbit
Most Trusted Affordable Grocery Store
National *: ALDI / Walmart (tie)
Midwest *: ALDI
Northeast *: ALDI
Southwest *: Walmart
West *: Walmart
For the first time, BrandSpark surveyed which is the Most Trusted Affordable Grocery Store and found that ALDI and Walmart have tied nationally. ALDI was voted the most trusted affordable grocery store by shoppers in the Northeast and Midwest, while Walmart was the most trusted affordable grocery store for shoppers in the South and West. "As Americans look for ways to shop for high-quality, affordable groceries these wins can reassure shoppers about their best choices," Levy says.
Some highlights from this year's BrandSpark® American Trust Study:

With the recent emphasis on prevention of disease and germ spread, Americans have chosen Lysol as their most trusted multi-purpose disinfecting cleaner.
Out of 150 brands in the study, Crayola has the largest share of consumer trust in its category (Children's Coloring), proving that the 134-year-old brand continues to provide the best coloring experience in the industry.
The study shows that dominant brands can appear across a wide range of categories with massive trust share achieved by Quaker for oatmeal, Welch's for grape juice, Dreft for baby laundry detergent, and Raid for insect control, among others.
Other categories remain highly competitive, illustrated by several categories where brands tied as most trusted, including gluten-free snacks, allergy relief, luxury skin care, floor cleaner and sound bars.
In a few categories the trust leader has changed in 2020, showing that trust is not a constant and brands must continue to forge strong relationships with their consumers to keep their leadership: Purple (2020 mattress-in-a-box winner) dethroned Casper, bareMinerals closed the gap to tie with Burt's Bees (2020 natural cosmetics winners) and Hefty (2020 garbage bag winner) edged out Glad.
How winners are determined
More than 18,000 American shoppers determined the BrandSpark Most Trusted Awards winners for 2020 through their "top of mind" unaided responses for the brand they trust most in categories they had shopped. Results are ranked based on volume of mentions and ties are declared if the margin of victory is within 3%. The questions were included in the annual BrandSpark American Trust Study with results weighted to be nationally representative. BrandSpark also conducts the BrandSpark Most Trusted Awards annually in Canada. Full study results are available. Contact Philip Scrutton PScrutton@BrandSpark.com
About BrandSpark International
Founded in 2001, BrandSpark International is a research and consulting firm that provides leading organizations with the clear direction they need to optimize brand positioning, ignite brand strategy, understand the evolving omni-channel shopper and prioritize growth initiatives. BrandSpark Marketing Services runs major awards programs Best New Product Awards and BrandSpark Most Trusted Awards, and leading shopper community Shopper Army .com where members test products and provide quality ratings and reviews.
About Newsweek
Newsweek is a premier news magazine and website that has been bringing high-quality journalism to readers around the globe for over 80 years. Newsweek provides the latest news, in-depth analysis and ideas about international issues, technology, business, culture and politics. In addition to its online and mobile presence, Newsweek publishes weekly English print editions in the United States, Europe/Middle East/Africa and Asia as well as editions in Japanese, Korean, Polish, Serbian and Spanish.
About EnVeritas Group
EnVeritas Group (EVG), is an award-winning, full-service agency offering bespoke, on-brand content creation, visual design, localization, and strategic messaging solutions to meet clients' global and local needs. EVG licenses influential and sales driving credentials via exclusive partnerships with recognized publications.
For further information or interview requests, please contact:
Press Contact: Victoria Kucera, Spotlight Media Relations victoria@spotlightmediarelations.com
BrandSpark International: Robert Levy, President, rlevy@brandspark.com
Adam Bellisario, Director, Consumer Awards, abellisario@brandspark.com
For Sales and Licensing information, please contact Brian Kolb, Chief Brand Officer, Enveritas, brian@enveritasgroup.com