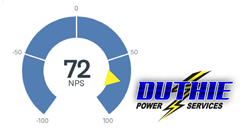 "We train and support our field technicians to be the best in the business, and with our quality score consistently being 5 out of 5 we now know that we do the best work out there."
LONG BEACH, Calif. (PRWEB) July 11, 2019
According to their Net Promoter score, generator (experts), Duthie Power Services, improved their customer experience by a whopping 172% since 2016.
The Net Promoter score measures how many customers have become loyal brand advocates (promoting products or services) for a company. When Duthie first started measuring their Net Promoter score back in 2016, the results were not what anyone expected.
"When the idea of surveying our customers was brought up in our management meeting, I questioned why we needed to do it." stated Randy Gross, Duthie's Service Manager. "I was sure all our customers loved us. But what we found was that we had lots or areas where we could be providing a more seamless level of service to our customers; where we needed to communicate better, send better reminders, be faster in the office and have stronger processes," Gross continued, "so we went to work on doing just that."
Today, Duthie Power surveys their customers annually. The company continues to work hard on their innovation by adding new technologies and hiring experienced personnel. The goal is to ensure customers are experiencing the very highest level of service possible.
Recent improvements include:

a dedicated account manager for all of their large accounts
an automated reminder service that calls and texts customers with appointment reminders
online scheduling requests for service, rentals and sales
an app allowing customers to track the location of their driver
and, most recently, Duthie Power implemented SugarCRM to seamlessly manage customer relationships and processes
The team at Duthie Power understands that when it comes to generator maintenance and service, price is not the only issue.
"Property managers and building engineers are extremely busy, and more and more is demanded of them every year," said Erik Duthie, General Manager of Duthie Power. "Many corporations manage thousands of properties, and their property managers are expected to manage multiple locations and lots of services. By focusing on the customer experience and making the way we do business easier for them, we know that they will continue to utilize our company even if our prices are not the lowest.
Duthie went on to say, "We take all the worry away as much as we can. There has also been one consistent score that has come through on the yearly surveys, and that is the quality of our work and our technicians."
According to Duthie, "We train and support our field technicians to be the best in the business, and with our quality score consistently being 5 out of 5 we now know that we do the best work out there."
About Duthie Power:
For more than 50 years, Duthie Power Services has served as Southern California's top expert in generator and diesel fire pump services, as well as new generator sales, serving clients all over Southern California including San Diego.
Duthie Power Services remains family owned and prides itself on making sure their customers receive the service they deserve when they need it.
Find Duthie Power online at duthiepower.com or connect with them on social media @duthiepower on Instagram, Facebook and Twitter, and @DuthiePowerServices on LinkedIn.