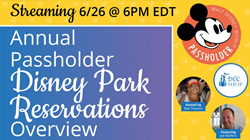 "Many of our clients are worried about not being able to enjoy the magic of Disney and are unclear on how to make park reservations. We hope to provide some insight into Disney's park reservation system for those who are confused about the process."
DAVENPORT, Fla. (PRWEB) June 25, 2020
As Walt Disney World prepares to reopen their parks after being closed for over three months during the COVID-19 pandemic, they have implemented a park admission reservation system in order to limit park capacity and facilitate social distancing. Currently, Disney is only allowing guests with resort reservations and valid theme park tickets the option to make park reservations. Annual Passholders will be allowed to make park admission reservations beginning June 26. Existing park ticket holders without resort reservations may begin making park reservations on June 28.
On June 26 at 6PM EDT DVC Shop, a licensed resale broker who specializes in Disney Vacation Club timeshare resale and rentals, will be streaming live to walk Disney annual passholders through the process of making Disney park reservations using the new reservation system.
The company's resale broker Bee Thaxton and long-time Disney Vacation Club owner and Disney expert Joe Wolfers will provide a short overview of the Disney reservation system followed by a live question and answer session.
The live webinar can be viewed at the following links:
https://www.facebook.com/dvcshopofficial/
https://www.youtube.com/watch?v=4jY3oaoOdzY
Bee Thaxton, DVC Shop's principal broker, was quoted saying, "Many of our clients are worried about not being able to enjoy the magic of Disney and are unclear on how to make park reservations. We hope to provide some insight into Disney's park reservation system for those who are confused about the process."
About DVC Shop
DVCShop.Com is one of the few Disney Vacation Club resale companies that not only does their own direct-to-consumer marketing campaigns, but also utilizes a substantial network of co-brokers. This allows owners to gain more exposure for their listings, as well as affords DVC buyers access to as many listings as possible.