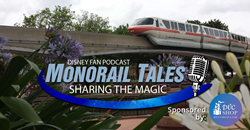 "The team at DVC Shop is very excited about our new sponsorship of Monorail Tales. This collaboration will help us connect with both DVC members and non members who have questions about the program, resorts, DVC resales and DVC rentals."
DAVENPORT, Fla. (PRWEB) August 07, 2020
On August 6, 2020, DVCShop.com announced its new sponsorship of the Monorail Tales Disney fan podcast. After the popularity of the first collaborative podcast between DVC Shop's principal broker Bee Thaxton and Monorail Tales on July 22, DVCShop.com and Monorail Tales have agreed on the sponsorship deal. Through this new sponsorship, Bee Thaxton has agreed to periodically join hosts Sheila and Ric on the podcast to discuss all things DVC.
During their first collaborative podcast, Bee provided listeners with an overview of the Disney Vacation Club (DVC) membership program and its benefits along with expert advice on how to best use DVC and who could benefit from becoming a member. As a DVC member herself, Bee will continue to provide listeners with insightful information regarding the vacation ownership program, resorts, tips and tricks, as well as how to rent DVC for those who are not members.
The July 22 podcast can be found at the following link:
https://hwcdn.libsyn.com/p/b/0/1/b01a2913a2e33f7b/dvc101done.mp3?c_id=78865073&cs_id=78865073&expiration=1595579169&hwt=b298ecd047ccb805841b979e0cc4cd71
The up and coming podcast Monorail Tales is a Disney fan podcast which focuses on hosting conversations about Disney parks, movies, news and rumors. The company has been recording podcasts since 2019 and aims to provide listeners with insightful and entertaining information and opinions about all things Disney. Hosts Sheila and Ric record episodes several times a week in varied formats to keep listeners up to date with the latest Disney news and entertainment.
Bee Thaxton and the Monorail Tales production team have committed to a series of DVC themed podcasts. Future Monorail Tales podcasts featuring Bee Thaxton can be found on the DVC Shop Resales Facebook page at https://www.facebook.com/dvcshopresales, the Monorail Tales Apple Podcast channel at https://podcasts.apple.com/us/podcast/monorail-tales/id1270978050, and http://www.monorailtales.com.
Bee Thaxton, broker for DVCShop.com, was quoted saying, "The team at DVC Shop is very excited about our new sponsorship of Monorail Tales. As a DVC owner for many years myself, I love DVC and I'm ecstatic to share my knowledge with Monorail Tales' listeners around the globe. This collaboration will help us connect with both DVC members and non members who have questions about the program, resorts, DVC resales and DVC rentals."
About DVC Shop
DVCShop.Com is one of the few Disney Vacation Club resale companies that not only does their own direct-to-consumer marketing campaigns, but also utilizes a substantial network of co-brokers. This allows owners to gain more exposure for their listing, as well as affords DVC buyers access to as many listings as possible.