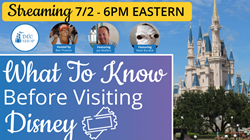 "We want our clients and all Disney guests planning to visit the parks to be informed of the changes Disney has implemented. Understanding the new safety rules, park entry procedures, and vacation planning processes are vital to ensuring that everyone has a magical vacation experience."
DAVENPORT, Fla. (PRWEB) July 02, 2020
As Walt Disney World prepares to reopen their parks after being closed for over three months during the COVID-19 pandemic, they have implemented a range of new safety measures and rules for guests visiting the parks. Disney's Orlando theme parks are scheduled to begin reopening on July 11, 2020. As Disney prepares to welcome guests back to the parks, guests are encouraged to understand Disney's new rules, guiding safety principles and booking processes before their visit.
On July 2 at 6PM EDT DVC Shop, a licensed resale broker who specializes in Disney Vacation Club timeshare resale and rentals, will be streaming live to guide hopeful Disney park-goers and resort visitors through the various new safety rules, processes for planning a trip to Disney, as well as the additional tools that will be used throughout the resort upon the reopening of the parks.
The company's resale broker Bee Thaxton and long-time Disney Vacation Club owner and Disney expert Joe Wolfers will provide a review of what Disney guests should know before visiting the theme parks followed by a live question and answer session.
The live webinar can be viewed at the following links:
YouTube: https://www.youtube.com/watch?v=Dq8QcVm_lJ0
Facebook: https://www.facebook.com/watch/?v=604851896810880
Katherine Rand, DVC Shop's Communications Manager, was quoted saying, "We want our clients and all Disney guests planning to visit the parks to be informed of the changes Disney has implemented. Understanding the new safety rules, park entry procedures, and vacation planning processes are vital to ensuring that everyone has a magical vacation experience."
About DVC Shop
DVCShop.Com is one of the few Disney Vacation Club resale companies that not only does their own direct-to-consumer marketing campaigns, but also utilizes a substantial network of co-brokers. This allows owners to gain more exposure for their listings, as well as affords DVC buyers access to as many listings as possible.