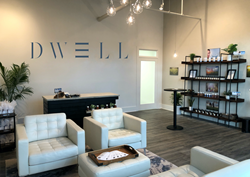 Our family brand has always focused on purity and community.
LEXINGTON, Ky. (PRWEB) November 18, 2020
While most CBD brands are solely focused on the quick returns of e-commerce, Dwell CBD has diligently and systematically developed an ultra-premium retail model, which is now poised to outpace its already extensive e-commerce sales.
By combining best-in-class operations, with a family-friendly atmosphere, Dwell CBD is now among the fastest growing, premium CBD brands in the country. In addition to a welcoming retail space, the new SKIN tm. brand of topicals and comprehensive wholesale portfolio is creating a value proposition unlike anything seen in the industry. Although Dwell CBD has only begun accepting new franchise applications, the model has been reviewed by some of the largest private franchise groups in the country and showing massive promise as a sustainable business.
Forbes is reporting US CBD industry sales are projected to exceed $23 billion by 2025, and the market is distinctly poised for exciting growth at the retail level. Beginning in 2021, Dwell CBD will offer franchisee's a dynamic opportunity to establish themselves as a trusted brand, with exciting product innovations and unmatched quality.
"Our family brand has always focused on purity and community. We truly enjoy sharing the science of CBD and continue to refer our clients and franchisees to published research as a means to illustrate our approach to efficacy and safety," said Louis Police, Co-Founder & CEO
Dwell CBD is a privately held company, established in 2017, and is based in Nicholasville, Kentucky. The company is dedicated to formulating the highest quality CBD oil and CBD-infused products, with an equal commitment to serving customers, and community. Known for their premium quality oil products, produced under cGMP guidelines and without any additives or preservatives, Dwell CBD is among the fastest growing independent brands in the nation.