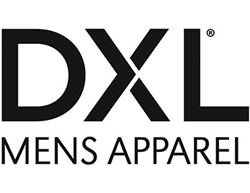 "DXL Men's Apparel provides these men a superior solution by offering the perfect combination of quality, selection, value and service in one convenient location -- making shopping easy and enjoyable so every guy can look and feel his best, regardless of his size or his budget." Harvey Kanter
CANTON, Mass. (PRWEB) June 04, 2019
Destination XL Group, Inc. (Nasdaq: DXLG), the world's leading omni-channel specialty retailer of Big + Tall clothing and shoes, has just converted and rebranded its Casual Male XL store, located at 17401 Southcenter Parkway, Tukwila, WA, into a DXL Men's Apparel store. The store has also been relocated just four doors down from its original location. DXL is a one-stop shop that caters to the clothing needs and lifestyles of men who wear waist size 38+ and size XL and up, as well as shoes in extended sizes and widths. DXL is committed to making the big and tall guy look and feel his best by offering an unparalleled, personalized shopping experience that includes an incredible selection of private label brands as well as current styles from over 100 top brands including Polo Ralph Lauren, vineyard vines, Lucky Brand Jeans and Nautica. DXL also offers exclusive size ranges from Reebok, Brooks Brothers, Lacoste and others.
When it comes to quality and an unrivaled fit, DXL Men's Apparel sets high standards. Whether a guy is 5'5" with a stockier frame or 6'6" with an athletic build, the challenge is to fit them both properly. That's why DXL employs a team of technical designers and quality assurance experts who dedicate themselves every day to providing big and tall guys with the most accurate fit, perfectly designed for them. Through a series of rigorous testing well beyond industry standards, the team goes back and forth to the drawing board until they've created the most comfortable and perfect fit imaginable. When guests enter a DXL store, they are assisted by in-store fit experts who are uniquely trained to service the big and tall shopper. These fit experts will help them identify brands and styles that will make them look and feel their absolute best.
"We know that bigger and taller guys have always found it challenging to get high-quality clothing and styles that look great and fit comfortably," said Harvey Kanter, President and CEO. "DXL Men's Apparel provides these men a superior solution by offering the perfect combination of quality, selection, value and service in one convenient location -- making shopping easy and enjoyable so every guy can look and feel his best, regardless of his size or his budget."
This new conversion from the current Casual Male XL store to DXL offers customers a brand new shopping experience that includes a more spacious environment, elevated visual merchandising, easy-to-shop departments, superior service, expanded brands and styles; plus, must-have essentials at everyday values. This one-of-a-kind shopping experience carries through to DXL.com where guests can access an even greater selection directly from the website and choose to have online purchases shipped directly to a local DXL Men's Apparel store at no charge.
About Destination XL Group
Destination XL Group, Inc. is the largest retailer of men's clothing in sizes XL and up, with operations throughout the United States as well as in London, England and Ontario, Canada. In addition to DXL Men's Apparel retail and outlet stores, subsidiaries of Destination XL Group, Inc. also operate Rochester Clothing stores, Casual Male XL retail and outlet stores, and the e-commerce site, DXL.com. DXL.com offers a multi-channel solution similar to the DXL store experience with the most extensive selection of online products available anywhere for the XL guy. The Company is headquartered in Canton, Massachusetts, and its common stock is listed on the NASDAQ Global Market under the symbol "DXLG." Sizes start at 38" waist and XL including tall sizes, plus shoe sizes 10-16, in widths to 4E. Follow @destinationXL on Facebook, Instagram and Twitter.