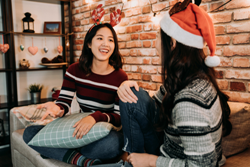 "There is a light at the end of the tunnel if you are willing to work especially during the toughest times". - Dylan Walker, Founder of New Existence Recovery
HUNTINGTON BEACH, Calif. (PRWEB) January 23, 2020
Let's face it; the holidays were a stressful time, a time when the weaknesses in family dynamics came out strongly. Old family issues, rivalries, and secrets were revisited. It's easy to understand why many folks prefer to duck out of the holidays altogether. For many of those coping with addiction and their families, the holidays posed additional stress for which there is no "cookie-cutter" solution.
Dylan Walker, founder of New Existence recovery centers in Huntington Beach, California, and now four years sober, knows this very well, "I spent three years of Christmas holidays in recovery centers, missing family gatherings, leaving my parents the terrible task of explaining why I was not there. Sometimes I think it was harder on them than on me." Dylan also takes it upon himself to work and support those in his recovery centers who will be missing holidays with their families. Last month he was supporting a woman and mother in particular who was struggling with being away from her family, "I reminded her that she was here for a reason, that the whole purpose here was to be reunited with her family, the right way, for the rest of their lives. I know what it's like. There is a light at the end of the tunnel if you are willing to work especially during the toughest times."
Below are some options to consider when reconnecting with family and friends, including birthdays and holidays:
1. Don't take special occasions personally. In the end, they are "days" like any other. A reunion can be created at any time.
2. Don't give a person coping with addiction a material item they could easily pawn or trade to feed their addiction.
3. If a person in recovery is coming to a family gathering, ask them how they feel about having people consume alcohol. If they are fine with it, share this with other family members, as having family members going into hiding to have a drink can make things awkward.
4. Make use of a 10 minute Skype, GoToMeeting or zoom call. This can be an ideal way to connect without incurring issues when being together in person. It's a great way for family and friends to connect - a small amount of pressure to prevent a large number of secrets, lies and hurt.
5. Again, don't take things personally. Often a person coping with addiction is not with you because they want to get better, and want to protect you. By seeing this a loving act it can be easier on everyone. It's hard enough to be away from loved ones without feeling the additional responsibility of the pain you are causing them. This is ultimately about ending the pain altogether.
See the light at the end of the dark tunnel together. And remember Addict is not something you "are"; you are a person first, and then someone coping with an addiction. Happy New Year to you and yours from the New Existence Recovery Center Family.
About New Existence
New Existence Recovery (https://www.newexistencerecovery.com/) is designed to guide those struggling with alcohol and substance abuse toward a path of long-term sobriety. Their professionals provide the highest level of affordable personalized care to every client through compassion, commitment, and industry-proven educational techniques. For more information, please contact Dylan Walker at (253) 653-2243 or visit https://www.facebook.com/NewExistenceRecovery/
or