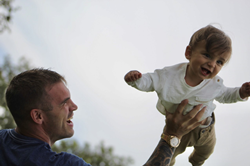 "As a new father, still very close to my own parents, I'm even more thankful for my recovery and want to help other families reconnect." - Dylan Walker, Founder of New Existence Recovery Center
HUNTINGTON BEACH, Calif. (PRWEB) November 25, 2019
It's easy to have a "not in my backyard" mentality when it comes to those suffering from drug and alcohol dependency. However, it is closer than anyone imagines.
As the holidays approach, it is hard to overlook the effect of addiction on the family, especially in light of the growing opiate and vape crisis. An estimated 1.9 million people in the US have some type of opioid addiction, with both the numbers for opiate overdose and vape related deaths on the increase.
Dylan Walker, the founder of the New Existence Recovery Center, is one such case. Walker grew up on a dairy farm near Seattle, "My Mom and Dad very much instilled in me the value of hard work," he recalls. "Dad taught me how to build barns and x the farm machinery." Since he was a young boy growing up on the farm, Dylan has always enjoyed helping people.
When he was 14-years-old, Dylan started drinking and smoking marijuana, "I was experiencing a lot of social anxiety and social pressure." Then he started drinking until he blacked out. He graduated to harder drugs in college, much to his parents' despair. "I experimented with opiates in college and was immediately hooked," he says. "I used every day."
Dylan, like many people, suffers from an addictive personality disorder and keeping clean and sober is a daily effort. As a new father, still very close to his own parents, Dylan is even more thankful for his recovery and wants to help others become clean and sober, "God did for me what I couldn't do for myself".
The mission of New Existence Recovery center is to provide the highest level of affordable personalized care to those struggling with substance and alcohol abuse through compassion, commitment, and industry-proven educational techniques. A critical aspect of this care includes addressing the well being of each individual.
Perhaps it is Dylan's farm-grown ethics that can be seen in the way he runs the center, "Since Day One, all of our clients have had my cell number – not a dollar sign and a piece of paper". According to clinical director John, who has been with Dylan since the center's inception, "Dylan is an extremely supportive, compassionate, and morally- sound individual. He isn't greedy or egotistical. He just listens and supports." Dylan has an open-door policy, which makes things a little hectic sometimes. "I need the chaos to keep me out of my head," he admits.
If long-term recovery is of importance to you, continued support should be a critical decision factor when choosing your recovery center, especially when choosing one out of state. The right recovery center not only offers a family-like environment but also offers mentorship and continual support from those who have achieved recovery themselves and won their families back. New Existence wishes you and yours a renewed sense of family connection this holiday season.
About New Existence
New Existence Recovery (https://www.newexistencerecovery.com/) is designed to guide those struggling with alcohol and substance abuse toward a path of long-term sobriety. Their professionals provide the highest level of affordable personalized care to every client through compassion, commitment, and industry-proven educational techniques. For more information, please contact Dylan Walker at (253) 653-2243 or visit https://www.facebook.com/NewExistenceRecovery/ or https://www.instagram.com/newexistencerecovery/