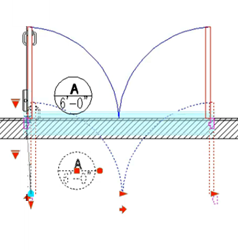 The new library includes dozens of options for each type of door, and the ability to choose the swing side. Users will enjoy both the simplicity and quick setup the library offers
Bend OR (PRWEB) March 31, 2014
A new block library called Dynamic Doors & Windows is available at SimpleCAD. The new block set consists of dynamic blocks for doors and windows to be used with architectural floor plans.
Erik Z, director of SImpleCAD, says, "Dynamic Blocks were first introduced to AutoCAD in 2007, but many AutoCAD users still don't use them. Dynamic blocks provide an easy way to improve your drafting speed".
The new window and door blocks feature a quick insertion and a masking feature, which "breaks" the wall lines automatically. You can also stretch the opening width and frame size by using what are called grips.
Erik Z. continues "The new library includes dozens of options for each type of door, and the ability to choose the swing side. Users will enjoy both the simplicity and quick setup the library offers."
Additionally several different types of hardware combinations are included using a built-in dynamic block feature called visibility states.
Each block and also automatically populated width and frame attribute fields and there are 10 additional door and window attribute data, which can be filled in by the user and then later extracted using either AutoCAD® or Excel to create a schedule or report.
The library allows you to specify different layers for the frame, door panel, glazing, sill, swing arc and door/window tag.
Window and door blocks is compatible with both AutoCAD® and LT® 2008 thru 2014 and works with both imperial and metric units.
This dynamic block library is easy to install and is downloadable after ordering. Free support is also included.
About SimpleCAD
SimpleCAD was established in January 2010 in Bend, Oregon. Through its development and distribution of award winning add-ons and block libraries for AutoCAD® and LT®, SimpleCAD makes it possible for design professionals to improve their productivity during the design and drafting process.
Email Contact: mail(at)simplecad(dot)com
Phone: 877-933-3929