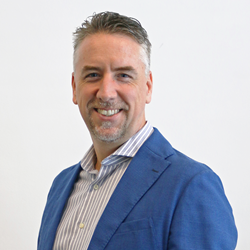 Chris is focused on People, Change and Results.
SAN FRANCISCO (PRWEB) November 09, 2020
We are pleased to announce that our former client, Christopher Harrington (most recently serving as a Senior Executive in a large MNC), is now co-owner and President of Dynamic Results.
Chris utilized our services and methodologies while transforming his prior organization and has now joined Dynamic Results to lead the global scaling of our firm.
Chris focuses on People, Change and Results.
He drives change and positive results by supporting teams and individuals to realize their potential. Chris models behavior that encourages thought-filled risk-taking, our Accountability Method™ and creating Emotional Safety® where people are trusted and empowered to do what needs to be done.
An entrepreneurial executive with over 20 years of full profit and loss responsibility in Corporate settings, Chris has led international businesses thru start-up foundation, continuous improvement in status quo, growth phases and also extensive restructuring. Chris has worked for a German MNC, a private American company and a publicly traded Japanese OEM manufacturer.
Most recently, Chris served as Senior Vice President with the Robert Bosch Group (Bosch) responsible for Digital Ecosystems, Start-ups and Partnerships in ASEAN and Oceania. Prior to that, Chris was Regional President responsible for the Automotive Aftermarket in ASEAN, Japan, Korea and Oceania. During his 18 year tenure with Bosch, Chris has been a Board Member for JVs, legal entities and Start-ups and was responsible for Bosch's Automotive Aftermarket OEM business in Asia-Pacific based out of Shanghai, China and was formerly Representative Director and President for ETAS K.K.'s embedded solutions business in Asia-Pacific based in Yokohama, Japan.
Chris graduated from Meijo University in Nagoya, Japan, with a Bachelors Degree (Economics) in an entirely Japanese curriculum.
Chris is an optimist by nature, convinced we can always do better and can learn from everyone around us.
Fluent in both English and Japanese, he has lived and worked in Canada, USA, Japan, China and Singapore, where he and his family currently reside.
Dynamic Results is a globally recognized, boutique, Management Consulting firm with proven expertise in accountability, emotional safety® and driving results. Our clients clarify and execute their respective strategies while doing behavioral assessment and development with the leaders to support the desired change. Clients choose Dynamic Results because of our Proven, Proprietary Methods.
The Accountability Method™ - Our language-based method for making and requesting accountable commitments has received global recognition as a catalyst for higher performance and improved results. This accountability language is taught in corporations and MBA programs in the US, EU, and Asia. Based on our best-selling book, "Winning With Accountability, The Secret Language Of High Performing Organizations", the method permeates our Strategic Implementation, Coaching, and other services with the best practices.
Strategic Implementation - This proprietary method is based on our Accountability Method™, and acts as the platform for down selecting priorities, forming implementation teams, and most importantly, driving unprecedented results. Our client's implement their strategies at more than 8x the rate of most organizations.
Emotional Safety® - This proprietary method is based on our Amazon Top-10 business book, "Step Up, Lead in Six Moments That Matter". This method helps generate leadership behaviors at every level of the organization. Featured in Forbes, The Washington Post, Fast Company, Inc. Magazine, and many other media outlets, this method shows people how to recognize and create an environment where others are acknowledged and rewarded for bringing challenging or bad news.
Combining Academic, Behavioral, and Business Expertise - We like to "blend" our delivery teams with experts who bring the background required for our client's current needs. This usually results in us assigning resources who together, bring a useful combination of business, academic, and/or psychological expertise to the delivery team.
Our founder Henry Evans will remain CEO and we all welcome Chris to our Dynamic Results Family.