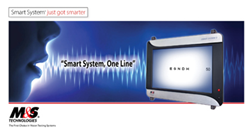 "For over 30 years M&S has focused on providing reliable software and advanced computerized testing systems to enable the eye care professional to better serve their patients. Our Hands-free Voice Activation feature takes patient focus and engagement to a new level."
NILES, Ill. (PRWEB) March 24, 2021
Eye-care professionals can now be more patient-focused than ever.
M&S Technologies, an innovative vision testing software developer and manufacturer, has announced the introduction of Smart System Dynamic Voice Recognition. This total voice recognition software simplifies and streamlines the visual acuity testing process and minimizes clinic contamination. During the efficient, hands-free procedure, a doctor's full focus is on the patient. Results have the same trusted degree of accuracy achievable with Smart Systems without the new voice feature.
"For over 30 years M&S has focused on providing reliable software and advanced computerized testing systems to enable the eye care professional to better serve their patients. Our Hands-free Voice Activation feature takes patient focus and engagement to a new level." - Joe Marino, Global Head of M&S Technologies
M&S Smart System is trusted and relied upon by eye-care professionals worldwide. Dynamic Voice Recognition software is an add-on feature for the All-in-One Smart System® 2 | 2020.
The Voice Recognition feature recognizes over 50 different spoken commands and adjusts the patient's chart accordingly. Voice-Activation functions include: "Randomize", "Size Up", "Size Down", "Snellen Letters", "LEA Symbols®", "Play Fixation Video", "Play DVD" and more.
For more information call 847-763-0500.
About M&S Technologies:
Founded in 1990, M&S Technologies is a software development and device manufacturer, rooted in state-of-the art software development, local manufacturing and superior customer service.
M&S is known worldwide for leading technological advancements in visual testing systems. M&S is dedicated to bringing high quality, extremely accurate testing products to eye-care professionals, optometry schools and universities.
See the Release on PRWeb
Have a thought about this article? Contact us and let us know.
http://www.mstech-eyes.com
jmarino@mstech-eyes.com