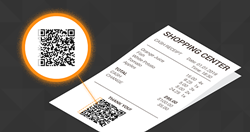 Dynamsoft Barcode Reader SDK now can auto-restore (or auto-complete) missing portions of a QR Code or a Data Matrix code.
VANCOUVER, British Columbia (PRWEB) January 13, 2020
Dynamsoft today introduced its Dynamsoft Barcode Reader version 7.3 software development kit for advanced barcoding that intelligently restores physically missing parts of barcode images and that improves on the difficulties of scanning crumpled barcodes. The new SDK version also adds optical character recognition capabilities for processing text that may accompany a barcode.
In many scenarios, a physical barcode can be incomplete. For example, sometimes a corner of one might be missing due to poor printing or damage from shipping. Dynamsoft Barcode Reader SDK now can auto-restore (or auto-complete) missing portions of a QR Code or a Data Matrix code. The SDK intelligently attempts to complete any missing positioning information based on an existing FinderPattern, the TimingPattern, the border, the image size, and so on.
The decoding success rate has also been improved for wrinkled or deformed QR codes. Deskewing a wrinkled barcode can sometimes diminish the quality of the image, which in turn reduces the barcode recognition accuracy. But Dynamsoft Barcode Reader uses pre-processing features to auto-deskew barcodes while maximizing their recognition accuracy.
New OCR Capability
Dynamsoft has also made available OCR technology to process text that might accompany a linear barcode image. The text OCR feature ensues after successful barcode decoding occurs. If the text OCR capability is enabled, the barcoding SDK will then extract text from the area or zone set by the user. If the user does not specify one, it will analyze the area above and below the barcode. It will intelligently pick a line of text block.
New Barcode Symbols Supported
This new version of the SDK has also added support for five new widely used barcode symbols. These new barcode symbols are the USPS Intelligent Mail, Postal Numeric Encoding Technique (POSTNET), Postal Alpha Numeric Encoding Technique (Planet), Australian Post, and UK Royal Mail.
About Dynamsoft's Barcode SDK
Dynamsoft provides a barcode scan and decode SDK for developers to more rapidly and cost-effectively deploy business-critical applications that rely on dependable barcode technology. With the SDK, developers can embed barcode reading functionality in a web, desktop or mobile application using just a few lines of code. This reduces development costs, saves project managers months of added development time, and significantly reduces long-term technical support resource needs and costs.
Pricing and Availability
Dynamsoft Barcode Reader SDK version 7.3 is now available for download from the Dynamsoft website, including a trial version. Pricing can be found at the website. These new features are integrated into all editions and requires no extra licenses. Supported editions include Windows, Linux, iOS, Android and JavaScript. The SDK is provided with rich code samples. There are various technical support channels for the SDK, including email, chat, phone, an online knowledge base, and more.
About Dynamsoft Corp.
Dynamsoft Corp. provides enterprise-class TWAIN™ software development kits (SDK) and a Barcode Reader SDK to help developers meet document imaging requirements for developing web or desktop document management applications. The company also provides enterprise-grade version control software to help developers manage developer teams and projects. The imaging SDKs help today's businesses seeking to migrate from wasteful paper-based workflows to efficient paperless electronic document and records management. Dynamsoft is an associate member of the TWAIN Working Group that develops TWAIN standards. Thousands of customers use Dynamsoft's solutions. Customers include 3M®; Apple®; EMC®; FUJIFILM Medical Systems U.S.A., Inc.; Fujitsu®; GE®; H&R Block®; HP®; IBM®, Intel®; Infosys®; Lockheed Martin®; Olympus®; Philips®; PricewaterhouseCoopers®; Samsung®; Siemens®; Symantec®; Unisys®; Verizon®; and more. The company was founded in 2003. More information is available at http://www.dynamsoft.com.
Note: Whether noted or not, references to certain words may be trademarks or registered trademarks of their respective owners.
# # #