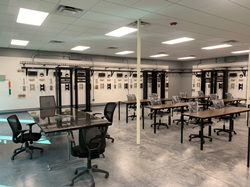 "The largest, most progressive companies on the planet rely on E2 to build their next-generation data centers and hyperscale facilities"
OMAHA, Neb. (PRWEB) March 25, 2021
E2 Optics, the leader in technology infrastructure solutions and one of the fastest-growing companies in the nation today, announces the launch of its wholly-owned BICSI Certified National Training Center in Omaha, Nebraska. Launching its third regional center, E2 fulfills the promise to invest in modern, state-of-the-art BICSI training facilities to create even safer work environments and the highest quality deployments.
"Safety and quality have always been the hallmarks of E2 Optics," states Kristi Alford-Haarberg, Founder and Chief Executive Officer of E2 Optics. "Owning national training centers allow us to create the new standard for consistency across our teams and projects. It would have been easy to remain conservative during these uncertain times and delay our plans. Instead, we decided to be aggressive and invest in our growth, our client's success, and, most importantly, our people's education and development. We began advanced training curriculums in February, so we're already benefiting from the decision. When you work at E2, you don't just join a team. You become a valuable contributor and part of our Family."
"The largest, most progressive companies on the planet rely on E2 to build their next-generation data centers and hyperscale facilities," adds Gary Iles, Chief Revenue Officer at E2 Optics. "The long-term economic and societal implications of these massive and complex infrastructure projects require that we constantly remain at the top of our game. Control over our BICSI centers ensures we're pioneers of exceptional quality and visionaries for delivering clients, partners, and employees "Safely Home" every day."
This conclusion to the multi-year planning and investment will position E2 Optics at the forefront of the industry by investing in people who are, literally, building the future. Strategically deploying regional centers delivers greater access to skilled and more diverse candidate pools, supporting E2's commitment to champion Diversity & Inclusion.
About E2 Optics
E2 Optics is an award-winning, Woman-Owned technology integrator headquartered in Denver, Colorado. We help clients deploy remarkably efficient solutions using our expertise across cabling, networking, and contemporary multi-media communications. E2 Optics believes that modern, turnkey technologies minimize operational costs, are simpler to manage, and result in better long-term investment returns.
From mission-critical data centers to new facility and tenant finish installation projects, we design low voltage solutions that seamlessly integrate audiovisual, physical security, structured cabling, and wireless solutions, including DAS and Wi-Fi systems. Our experience spans Enterprise and Government clients within the Energy, Finance, Health Care, Higher Education, Manufacturing, Media & Communications, and Transportation industries.