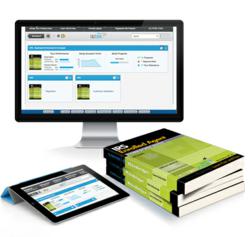 FastBook is a resourceful, innovative, and effective tool for students becoming enrolled agents and certified public accountants
Orlando, Florida (PRWEB) July 12, 2013
Fast Forward Academy's intelligent textbook for the enrolled agent exam and uniform CPA exam is creating a buzz in the industry. The only smart book of its kind, FastBook is earning a reputation as being a revolutionary learning tool. A reputation that is quickly spreading, too, based on attendance at a recent webinar on FastBook, where close to 700 participants registered to learn more about this new study tool.
During the June 18 webinar, entitled FastBook: The First and Only EA and CPA Intelligent Online Textbook, participants were given an overview of the various interactive features of FastBook such as the book's ability to track individual student performance and offer community statistics. Students were shown how FastBook can increase their chances of passing the often challenging EA and CPA exam on the first try.
Webinar host and Fast Forward Academy President, Matt McBride, is pleased at the webinar's attendance. "FastBook is a resourceful, innovative, and effective tool for students becoming enrolled agents and certified public accountants," states McBride. "This intelligent textbook, which adapts based on a student's EA or CPA exam prep performance, is changing the way students prepare for exams." McBride continues, "Here at Fast Forward Academy, we want learning to be a customized, individual approach, not a one-size-fits-all style that happens at other learning institutions. Tools like FastBook ensure that students really do receive the learning model that is best tailored to them… a one-size-fits-YOU model."
McBride says that Fast Forward Academy will still have physical textbooks as part of its courses with no plans to replace physical books, but instead plans to use FastBook to compliment the printed text.
Fast Forward Academy is currently planning more webinars to announce other revolutionary products in the pipeline.
Click here to learn all about preparing for your EA or CPA exam.
About Fast Forward Academy
Fast Forward Academy, LLC provides companies and individuals around the world with the tools to help them efficiently manage their professional education needs. The name Fast Forward Academy reflects the scope of our mission—helping students and professionals accomplish more in less time. To realize this goal, we make every effort to provide the most useful and efficient exam prep material in the market place, all designed to help our students Learn Fast and Pass. Our principal focus is to supply rapid training and streamlined continuing education to professionals in the fields of taxation, securities and insurance.