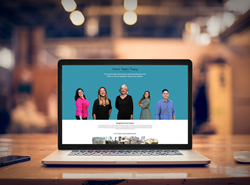 Our new web presence will help us continue to expand our footprint as experts and leaders in the Northeast LA real estate market.
Los Angeles, CA (PRWEB) May 16, 2017
Preeminent Northeast Los Angeles realtor Tracy King has launched an ambitious new website. King's boutique real estate team, in association with Tells Properties, specializes in Eagle Rock real estate as well as representing buyers and sellers of homes in Highland Park, Glassell Park and Mt. Washington. The state-of-the-art website reflects the technological expertise of the group while highly customized content reflects the boutique nature of the service provided by the elite real estate team.
According to Keely Myres, Senior Partner of the team, the launch of the website was carefully timed to coincide with the team's expansion into additional areas of Northeast Los Angeles.
"Our new web presence will help us continue to expand our footprint as experts and leaders in the Northeast LA real estate market," said Myres. "The site fosters greater awareness of the approaches that make our operation successful. We're a cutting edge real estate team that has mastered technology to market our listings to the widest possible audience of potential buyers. At the same time, it captures the warmth and level of personal service our clients have come to expect when working closely with our team."
King, embarking on her 28th year as a top producing Realtor, was an early advocate of technology to make the tasks of marketing, buying and selling real estate simple, fast and accessible to her clients.
Team Tracy has earned a reputation for excellence for assisting homebuyers and home sellers in the active market of Northeast Los Angeles including the communities of Pasadena, Altadena, Hermon, Garvanza and South Pasadena. King has become a bona fide expert in the sale of character homes, including Craftsman, Victorian, Tudors, Mission Revival, and mid-century homes, many designed and built by renowned builders and architects.
Significantly, the website reflects the creative nature of the region that gave birth to the Arts and Crafts Movement in the United States at the turn of the century. According to Myres, it was vital that the website didn't only represent the face of their online business, but to also "look like this creative, colorful area".
"People who buy in communities like Eagle Rock, Highland Park and Pasadena are attracted to the lifestyle. The beautiful tree-lined streets, the hillside neighborhoods with views, the overall artistic and creative layout of this region," stated Myres. "All of our newly-published, original resources have been written specifically for Northeast Los Angeles buyers and sellers. The accompanying imagery is also original and artistic. Our website reflects our passion, appreciation, and expertise - for these areas in which we live and work."
The website, which launched in mid-April, offers technologically-advanced featured listings, open house information, MLS access, videos, a local restaurant guide as well as informative resources for both buyers and sellers.
According to Tracy King, the website was developed "as a vital tool to differentiate our operation in a region and industry that is saturated with realtors."
"We want visitors to be wowed and for our new website to instill confidence in our brand," said King. "It highlights our strengths of strategy, organization, fresh vision, outside the box thinking and certainty of execution."
The new website may be viewed at http://www.TracyKing.com.