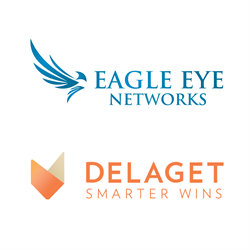 Using Eagle Eye together with Delaget's exception-based analytics solution, customers can now find, authenticate, and act on employee theft and error in minutes instead of hours.
AUSTIN (PRWEB) August 26, 2020
Eagle Eye Networks, the global leader of cloud video security, today announced a collaboration with Delaget, a software-as-a-service provider specializing in business intelligence for restaurants, to integrate the Eagle Eye Video API Platform into Delaget's loss prevention and analytical tools. The combined solution will enable restaurant operators to view suspicious transactional data alongside corresponding video footage within one, easy-to-use tool.
Traditional loss prevention techniques are time-consuming and not productive. Most restaurant operators toggle between multiple applications to hunt for suspicious activity, often without the ability to drill down to the ticket level and watch corresponding video footage. With the data and video solution from Eagle Eye and Delaget, restaurant operators can securely view remote video across multiple locations in one easy-to-use interface. The integrated solution eliminates the need to export transactional data and scroll through hours of video to identify specific transactions that require investigation. And while other video solutions require a technician to troubleshoot issues when they arise, Delaget and Eagle Eye Networks are true cloud solutions, able to offer remote support 24/7.
"The Eagle Eye Cloud VMS, being compatible with over 3,000 cameras, ensures Delaget customers will be able to leverage their existing technology investments, saving thousands of dollars over proprietary camera systems," said Jason Tober, CEO, Delaget. "Using Eagle Eye together with Delaget's exception-based analytics solution, customers can now find, authenticate, and act on employee theft and error in minutes instead of hours."
Dean Drako, CEO and Founder of Eagle Eye Networks added, "Employee theft is one of the leading causes of profit loss for restaurants and efficiently mitigating that loss requires a tight integration between point of sale data and video. With Eagle Eye and Delaget, restaurant operators can now identify and authenticate suspicious transactions all in one place, through an intuitive interface that's easy to use for all skills levels."
ABOUT EAGLE EYE NETWORKS
Founded in 2012, Eagle Eye Networks, Inc., is #1 in cloud video surveillance worldwide, addressing the needs of businesses, alarm companies, security integrators, cities, and individuals. Eagle Eye's 100% cloud managed solutions provide cloud and on-premise recording, bank-level security and encryption, and broad analog and digital camera support – all accessed via the web or mobile applications. Businesses of all sizes and types utilize Eagle Eye solutions for operational optimization and security. All Eagle Eye products benefit from Eagle Eye's developer friendly RESTful API platform and Big Data Video Framework™, which allow for indexing, search, retrieval, and analysis of live and archived video. Eagle Eye's open Video API has been widely adopted for integration in alarm monitoring, third party analytics, security dashboards, and point of sale system integrations.
Eagle Eye sells its products through authorized global resellers and installation partners. Headquartered in Austin, Texas, USA, Eagle Eye has offices in Europe and Asia-Pacific. For more information, please visit http://www.een.com or call +1-512-473-0500 (US), +31 (0) 20 26 10 460 (EMEA) or +81-3-6868-5527 (JP).
EAGLE EYE PRESS CONTACTS
AMERICAS
Megan Gillis
mgillis@een.com
+1-512-473-0500
EMEA
Max van Riel
mvanriel@een.com
+31 (0) 20 26 10 460
APAC
Chie Takizawa
ctakizawa@een.com
+81-3-6868-5527
ABOUT DELAGET
Delaget helps growth-oriented restaurant operators expand their business and improve profitability through our configurable, business intelligence dashboard, our data solutions and our partner marketplace. Delaget provides a combined view of the most critical operational data including sales, labor, food costs, speed of service, voice of customer, loss prevention, and more, all on one screen. We were born of the restaurant industry, understand its unique challenges and requirements, and know how to help restaurateurs run smarter, more profitable operations. Our customers include franchisees and franchisors from brands that include KFC, Taco Bell, Pizza Hut, Sonic, Popeye's, Slim Chickens, Five Guys, Hard Rock Café, Checker's, Hardee's, Long John Silver's, Papa John's, Brooklyn Water Bagels, and more. Visit us at http://www.delaget.com for more information.
DELAGET PRESS CONTACT
Renée Munro
renee.munro@delaget.com