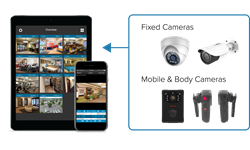 AUSTIN, Texas (PRWEB) August 28, 2019
Eagle Eye Networks today unveiled enhancements to the Eagle Eye Cloud VMS supporting 15 additional third party mobile and body worn cameras. The Eagle Eye VMS provides simultaneous operations, search, and cloud storage for fixed and mobile cameras. Managing and retrieving body worn camera video has historically been a separate process from the primary video surveillance system. With Eagle Eye this can now be an integrated and cohesive process that requires less training, is more secure, and more reliable. The Eagle Eye mobile and body worn camera system includes:

Viewing mobile and fixed camera footage in one cohesive interface eliminating the need for multiple applications.
Archiving, storage, and retrieval of time-stamped mobile footage with GPS coordinates and tracking.
Secure sharing of video via mp4 files or via direct links to interested parties.
Open platform that provides compatibility with a broad array of cameras. Today, Eagle Eye Networks provides support for over 3,500 mobile and fixed cameras.
Access to a True Cloud system meaning virtually unlimited scalability, triple redundant data center architecture, full encrypted video, and comprehensive cyber security.
Eagle Eye Networks' open API architecture, Eagle Eye Video API Platform, delivers unlimited video analytics from partners.
AI Ready
With video stored in the cloud and open API's, new AI analysis is being continually developed and improved.
"It's been proven repeatedly that open systems architectures win over proprietary systems. Eagle Eye Networks believes in open architecture standards and our platform, Eagle Eye Cloud VMS, demonstrates this. Extending our platform to encompass mobile cameras is a logical extension of our open camera platform. Our open platform ability to integrate third party AI and Analytics is delivering on a broad set of applications for our customers," said Dean Drako, CEO of Eagle Eye Networks.
Eagle Eye Networks customers have desired integration of mobile and fixed camera surveillance to reduce risk in commercial industries: in-home services, retail, guarding, commercial delivery services, real estate sales, and other service-oriented verticals. The mobile camera video and GPS data will be securely transferred to the Eagle Eye Cloud Data Center where video footage can be reviewed, analyzed and stored.
To learn more about Eagle Eye Networks, visit http://www.een.com or contact +1-512-473-0500, +31 (0) 20 26 10 460 or +81-3-6868-5527.
Availability
The Eagle Eye Cloud VMS support for body worn cameras is available to authorized resellers and installation partners in North America starting today with availability for Europe, Latin America and Asia scheduled for Q1 2020.
About Eagle Eye Networks
Founded in 2012, Eagle Eye Networks, is the #1 in cloud video surveillance worldwide, addressing the needs of businesses, alarm companies, security integrators, and individuals in over 80 countries worldwide. Eagle Eye's 100% cloud managed solutions provides cloud and on-premise recording, bank level security and encryption, and broad analog and digital camera support – all accessed via the web or mobile applications. Businesses of all sizes and types utilize Eagle Eye solutions for operational optimization and security. All Eagle Eye products benefit from Eagle Eye's developer friendly RESTful API platform and Big Data Video Framework ™, which allow for indexing, search, retrieval, and analysis of live and archived video. Eagle Eye's open Video API has been widely adopted for integration in alarm monitoring, third party analytics, security dashboards, and point of sale system integrations.
Eagle Eye Networks sells its products through authorized global resellers and installation partners. Headquartered in Austin, Texas, USA, Eagle Eye Networks has offices in Europe and Asia-Pacific. For more information, please visit http://www.een.com or call +1-512-473-0500, +31 (0) 20 26 10 460 or +81-3-6868-5527.
Press Contacts
Americas
Megan Gillis
mgillis(at)een(dot)com
+1-512-473-0500
EMEA
Max van Riel
mvanriel(at)een(dot)com
+31 (0) 20 26 10 460
APAC
Misaki Yamanaka
myamanaka(at)een(dot)com
+81-3-6868-5527