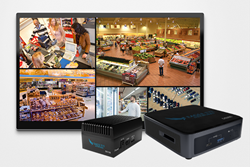 AUSTIN, Texas (PRWEB) September 22, 2020
Eagle Eye Networks, the global leader of cloud video surveillance, today announced the launch of the Eagle Eye Local Display Station. The new video appliance integrates seamlessly with Eagle Eye's Cloud Video Management System (VMS), displaying up to 32 cameras on any standard TV display and up to 164 cameras across multiple display pages.
The Eagle Eye Local Display Station is available in two models, the DS100 which supports a single display, and the DS200 which supports two displays. Both models provide ultra-low latency, crisp, and clear video. The software provides high reliability and customizable layouts which are controlled and managed from the cloud.
The Eagle Eye Local Display Station delivers live video without the cost, complexity, and maintenance of a workstation, making it ideal for use in public areas or remote locations with less technical support staff. It delivers live video on nearly any monitor. And, it's designed using the highest quality components, with embedded software technology that ensures reliability even during power outages.
"The addition of the Eagle Eye Local Display Stations to our product portfolio improves deterrence, detection, and response to incidents, while making the most of security budget dollars," said Dean Drako, CEO of Eagle Eye Networks. "It provides customers the benefits of cloud video surveillance and a trouble free local live display."
The Eagle Eye Display Station DS100 and Eagle Eye Display Station DS200 are available immediately and have a starting price of 899 USD.
For more information regarding the Eagle Eye Local Display Station, please visit http://www.een.com/local-display-station/. For details regarding Eagle Eye Networks, visit http://www.een.com.
ABOUT EAGLE EYE NETWORKS
Founded in 2012, Eagle Eye Networks, Inc., is #1 in cloud video surveillance worldwide, addressing the needs of businesses, alarm companies, security integrators, cities, and individuals. Eagle Eye's 100% cloud managed solutions provide cloud and on-premise recording, bank-level security and encryption, and broad analog and digital camera support – all accessed via the web or mobile applications. Businesses of all sizes and types utilize Eagle Eye solutions for operational optimization and security. All Eagle Eye products benefit from Eagle Eye's developer friendly RESTful API platform and Big Data Video Framework ™, which allow for indexing, search, retrieval, and analysis of live and archived video. Eagle Eye's open Video API has been widely adopted for integration in alarm monitoring, third party analytics, security dashboards, and point of sale system integrations.
Eagle Eye sells its products through authorized global resellers and installation partners. Headquartered in Austin, Texas, USA, Eagle Eye has offices in Europe and Asia-Pacific. For more information, please visit http://www.een.com or call +1-512-473-0500 (US), +31 (0) 20 26 10 460 (EMEA) or +81-3-6868-5527 (JP).
PRESS CONTACTS
GLOBAL HQ
Tad Druart
tdruart@een.com
+1-512-473-0500
AMERICAS
Megan Gillis
mgillis@een.com
+1-512-473-0500
EMEA
Max van Riel
mvanriel@een.com
+31 (0) 20 26 10 460
APAC
Chie Takizawa
ctakizawa@een.com
+81-3-6868-5527
###