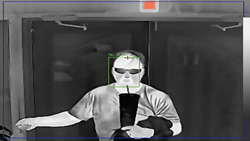 AUSTIN, Texas (PRWEB) May 20, 2020
Eagle Eye Networks, the global leader of cloud video surveillance, today announced the availability of a passive elevated temperature screening solution with the Eagle Eye Cloud Video Management Systems (VMS). Eagle Eye Networks will be providing a complete system via its reseller partners which includes a thermal camera, blackbody calibration unit, cloud-based recording subscriptions, and real-time notifications. The calibration unit is recommended by the FDA for these applications to increase accuracy. Eagle Eye resellers can offer solutions to restaurants, factories, warehouses, office, retailers, hotels, health care, fitness, and other industries in order to provide passive temperature screening as business resumes.
"Elevated temperature screening, although not fully proven, is a potential tool to enhance people's safety as the world resumes business. The desire to measure everyone's temperature when entering a facility is new, but the technology was quickly integrated into the open Eagle Eye Video API platform -- providing an excellent example of why an open platform is superior. You cannot accurately predict all your security system needs as the world and technology changes so rapidly. You really must have an open platform, like the Eagle Eye Cloud VMS, to be prepared," said Dean Drako CEO of Eagle Eye Networks.
Applications which require around-the-clock monitoring, such as passive elevated temperature screening, are best accomplished using a cloud video surveillance solution. Leveraging the cloud avoids the need for an attendant to be present, maintains proper records, and provides for quick deployment in global multi-location situations.
The turnkey Eagle Eye Elevated Temperature Screening System includes all necessary components. The integrated cameras are manufactured by third parties overseas. To address cyber security concerns, Eagle Eye utilizes its Cyber Lockdown feature to ensure all cameras are cyber secure. Eagle Eye also supports thermal cameras from Sunell, HikVision, Dahua, Mobotix, FLIR, and others.
Joshua Baer, CEO of Capital Factory, the leading start-up incubator in Austin TX, said, "As we look to re-open our facilities in the near future we want to make sure the environment is as safe as possible for our members and entrepreneurs. We see passive thermal elevated temperature measurement as a powerful tool to make sure we are doing what we can to keep everyone safe. The fact that it is fully passive and does not require any action by the members or require attendance by a staff member is critical to us."
Existing Eagle Eye Cloud VMS customers can easily add a thermal camera to their existing system and perform elevated temperature measurement.
"We all want to do what we can to battle COVID-19," continues Drako, "As a cloud video surveillance company we have been working on integrating, testing, and validating thermal cameras for elevated temperature screening. Our results have indicated that these solutions, while not perfect, can be a useful tool as we strive to return to a more normal workplace. A number of our partners and customers have asked us to provide a complete turnkey system."
Passive Elevated Temperature screening is a new technology that comes with a set of new challenges. Eagle Eye will continue development on these thermal systems to reduce costs, increase accuracy, and improve robustness.
ABOUT EAGLE EYE NETWORKS
Founded in 2012, Eagle Eye Networks, Inc., is #1 in cloud video surveillance worldwide, addressing the needs of businesses, alarm companies, security integrators, cities, and individuals. Eagle Eye's 100% cloud managed solutions provides cloud and on-premise recording, bank level security and encryption, and broad analog and digital camera support – all accessed via the web or mobile applications. Businesses of all sizes and types utilize Eagle Eye solutions for operational optimization and security. All Eagle Eye products benefit from Eagle Eye's developer friendly RESTful API platform and Big Data Video Framework ™, which allow for indexing, search, retrieval, and analysis of live and archived video. Eagle Eye's open Video API has been widely adopted for integration in alarm monitoring, third party analytics, security dashboards, and point of sale system integrations.
Eagle Eye sells its products through authorized global resellers and installation partners. Headquartered in Austin, Texas, USA, Eagle Eye has offices in Europe and Asia-Pacific. For more information, please visit http://www.een.com or call +1-512-473-0500 (US), +31 (0) 20 26 10 460 (EMEA) or +81-3-6868-5527 (JP).