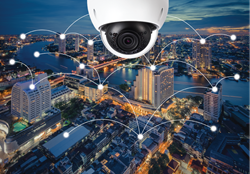 AUSTIN, Texas (PRWEB) October 30, 2020
Eagle Eye Networks, the global leader in cloud video security, has published its latest whitepaper "Smart Cities: Cloud Video for Connected, Secure Cities." A valuable resource for city leaders looking to build a smart infrastructure, the paper delves into applications, public use, key technology requirements, and smart city engineering and architecture.
"Recent successes have shown that cloud-based solutions are indispensable elements of smart city infrastructure, which includes both public and private infrastructure elements," explains Ken Francis, President of Eagle Eye Networks. "Cloud-based deployments are essential for cost-effectiveness, scalability, and short deployment timeframes. Eagle Eye Networks is proud to partner with city officials around the globe to accelerate innovation and deployment timeframes by building a cyber secure, open, cloud-based security foundation for their cities."
The whitepaper outlines 11 key requirements of smart city technology initiatives, including:
Intelligent Connectivity – City leaders must develop a sound networking plan for any proposed project, verifying the infrastructure capabilities and documenting the planned intelligent use of existing network infrastructure and any new infrastructure to be added as part of the project.
Simple Scalability – Explore the future vision of the smart city infrastructure and document how the modern solution being proposed will satisfy current needs and also be both expandable and manageable for future growth.
Device and System Inter­op­er­ability – Ensure the immediate interoperability requirements have all been identified. Work out and document how they will be addressed by current product capabilities or near-term vendor roadmap items.
Open Systems Architecture – Don't just conform to smart city planning, but contribute to it – especially for strategic infrastructure design and elevating citizen and visitor experiences.
Actionable Data and Analytics – Security technology service providers should consider the many opportunities that are appropriate for a city seeking to improve the smart city venue experiences.
Download "Smart Cities: Cloud Video for Connected, Secure Cities" for more details regarding building safer, smarter, more connected communities. For additional smart city resources, including an infographic, blog post, and customer success story, visit https://www.een.com/smart-city-surveillance/. Finally, join Eagle Eye Networks at Smart City Live 2020, November 17 and 18. The worldwide native digital event for cities is hosted by Smart City Expo World Congress.
ABOUT EAGLE EYE NETWORKS
Founded in 2012, Eagle Eye Networks, Inc., is #1 in cloud video surveillance worldwide, addressing the needs of businesses, alarm companies, security integrators, cities, and individuals. Eagle Eye's 100% cloud managed solutions provide cloud and on-premise recording, bank-level security and encryption, and broad analog and digital camera support – all accessed via the web or mobile applications. Businesses of all sizes and types utilize Eagle Eye solutions for operational optimization and security. All Eagle Eye products benefit from Eagle Eye's developer friendly RESTful API platform and Big Data Video Framework ™, which allow for indexing, search, retrieval, and analysis of live and archived video. Eagle Eye's open Video API has been widely adopted for integration in alarm monitoring, third party analytics, security dashboards, and point of sale system integrations.
Eagle Eye sells its products through authorized global resellers and installation partners. Headquartered in Austin, Texas, USA, Eagle Eye has offices in Europe and Asia-Pacific. For more information, please visit http://www.een.com or call +1-512-473-0500 (US), +31 (0) 20 26 10 460 (EMEA) or +81-3-6868-5527 (JP).
EAGLE EYE REGIONAL PRESS CONTACTS
GLOBAL HQ
Tad Druart
tdruart@een.com
+1-512-473-0500
AMERICAS
Megan Gillis
mgillis@een.com
+1-512-473-0500
EMEA
Max van Riel
mvanriel@een.com
+31 (0) 20 26 10 460
APAC
Chie Takizawa
ctakizawa@een.com
+81-3-6868-5527
###