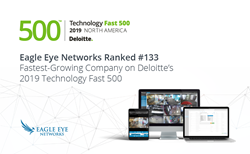 AUSTIN, Texas (PRWEB) November 13, 2019
Eagle Eye Networks, the global leader in cloud video surveillance, today announced it ranked 133rd on Deloitte's Technology Fast 500, a ranking of the 500 fastest-growing technology, media, telecommunications, life sciences, and energy tech companies in North America, now in its 25th year. Eagle Eye Networks grew 936% during the period.
Eagle Eye Networks founder and CEO, Dean Drako, attributes the growth to the extensive investment Eagle Eye has made in application development, AI, cybersecurity and data center infrastructure. "The video surveillance market has traditionally relied on physical on-site storage. Now more than ever, companies are focused on cybersecurity and the costs associated with IT infrastructure. We're entering an era where customers are demanding cloud because only cloud can deliver the scalability, security, resiliency, and cost savings they need."
"This year marks the 25th anniversary of Deloitte's Technology Fast 500, so we are especially pleased to announce and congratulate the 2019 winners," said Sandra Shirai, vice chairman, Deloitte LLP, and U.S. technology, media and telecommunications leader. "Once again, we saw innovation across the board, with software companies continuing their dominance of the top ten. It's always inspiring to see how the Fast 500 companies are transforming business and the world we live and work in."
"As technology innovation trends towards 'everything as a service', it's no surprise that software companies dominate the winners list yet again this year," said Mohana Dissanayake, partner of Deloitte & Touche LLP, and industry leader for technology, media, and telecommunications within Deloitte's audit and assurance practice. "What's exciting about celebrating 25 years of the Tech Fast 500 is we now have a quarter-century of innovation stories to draw and reflect upon. These are the companies that push boundaries, help organizations become more efficient and productive, and ultimately enable businesses to drive growth and revenue. We congratulate all the well-deserving winners."
ABOUT DELOITTE'S 2019 TECHNOLOGY FAST 500
Now in its 25th year, Deloitte's Technology Fast 500 provides a ranking of the fastest-growing technology, media, telecommunications, life sciences, and energy tech companies — both public and private — in North America. Technology Fast 500 award winners are selected based on percentage fiscal year revenue growth from 2015 to 2018.
In order to be eligible for Technology Fast 500 recognition, companies must own proprietary intellectual property or technology that is sold to customers in products that contribute to a majority of the company's operating revenues. Companies must have base-year operating revenues of at least $US50,000, and current-year operating revenues of at least $US5 million. Additionally, companies must be in business for a minimum of four years and be headquartered within North America.
ABOUT EAGLE EYE NETWORKS
Founded in 2012, Eagle Eye Networks, Inc., is #1 in cloud video surveillance worldwide, addressing the needs of businesses, alarm companies, security integrators, and individuals. Eagle Eye's 100% cloud managed solutions provides cloud and on-premise recording, bank-level security and encryption, and broad analog and digital camera support – all accessed via the web or mobile applications. Businesses of all sizes and types utilize Eagle Eye solutions for operational optimization and security. All Eagle Eye products benefit from Eagle Eye's developer-friendly RESTful API platform and Big Data Video Framework ™, which allow for indexing, search, retrieval, and analysis of live and archived video. Eagle Eye's open Video API has been widely adopted for integration in alarm monitoring, third party analytics, security dashboards, and point of sale system integrations.
Eagle Eye sells its products through authorized global resellers and installation partners. Headquartered in Austin, Texas, USA, Eagle Eye has offices in Europe and Asia-Pacific. For more information, please visit http://www.een.com or call +1-512-473-0500 (US), +31 (0) 20 26 10 460 (EMEA) or +81-3-6868-5527 (JP).
PRESS CONTACTS
AMERICAS
Megan Gills
mgillis@een.com
+1-512-473-0500
EMEA
Max van Riel
mvanriel@een.com
+31 (0) 20 26 10 460
APAC
Misaki Yamanaka
myamanaka@een.com
+81-3-6868-5527