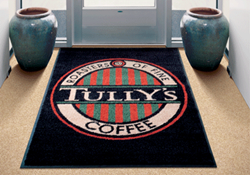 We thought this would be a good time to offer large discounts to those who may not have it in their budget to pay full price during this period of insecurity and uncertainty
GAITHERSBURG, Md. (PRWEB) October 01, 2020
Eagle Mat and Floor Products announced their biggest sales event ever this morning. Now through October 4th, all customers will have the opportunity to save 5% off orders over $250, 7.5% off orders over $500 and 10% off orders over $1,500. The discount can be applied to any new order by entering the coupon code "AUTUMN2020" during checkout at EagleMat.com.
"Unfortunately, due to COVID-19, times are tough and both people and businesses are hurting financially. We thought this would be a good time to offer large discounts to those who may not have it in their budget to pay full price during this period of insecurity and uncertainty," said Steven Blumberg, President of Eagle Mat and Floor Products.
EagleMat.com's floor mat collection includes entrance mats, recessed grill mats, clean room mats, anti-fatigue mats and custom logo mats. These products keep employee areas safe, clean, dry and comfortable throughout long business hours. In addition to mats, the company also offers premium quality elevator wall pads, automatic wet umbrella wrappers, stair treads, wall and corner guards, and crowd control stanchions (among many other items) designed to preserve interior conditions and keep buildings organized and looking new and well-maintained.
For commercial properties and facilities, high traffic areas at entrances, in vestibules, and lobbies require the utmost attention to detail and safety. Eagle Mat's recessed mats, cocoa mats and grill mat systems are among their most popular products for these purposes. Eagle Mat is proud to carry a wide variety of recessed floor mats and grill mat products from industry leading brands. Anti-fatigue mats are also widely popular for businesses looking to increase employee morale and productivity.
For businesses of any size, logo floor mats are among the most popular items offered on the website. These are ideal for entrances, lobbies, and reception areas, but custom logo mats can offer a lasting impression for visitors in any office or commercial environment. Eagle Mat's logo mats are crisply designed and printed or inlaid using industry-leading technology. Plus they are a great way to promote and market a business.
With rain and snowstorms forthcoming in Q4 2020, now is the opportune time to begin preparations. In addition to floor mats prevent floors from becoming slippery and wet, Automatic Wet Umbrella Wrappers provide a hands-free system for the ultimate convenience and safety. This allows visitors, customers and patrons alike to wrap wet umbrellas in a disposable plastic bag quickly and easily, without having to touch parts or pieces that was just previously handled by another person. This is an ideal way to prevent rainwater accumulations, puddles and slip-and-fall hazards, all without sharing and germs or bodily fluids.
Eagle Mat is actively involved with commercial properties, businesses and facilities around the country and the world. With today's major concerns regarding COVID-19, facility managers and business owners are more conscious than ever about safety for their visitors, customers and employees. Commercial floor mats are specifically designed for this purpose. For more details about products and services, contact Eagle Mat's service experts at (877) 333-1018 or visit https://www.eaglemat.com.
About Eagle Mat & Floor Products
Located in Maryland, Eagle Mat & Floor Products is a pioneer of commercial flooring and building products and services. For over 37 years, Eagle Mat's sales, rentals, commercial cleaning, and installation of commercial flooring products offer solutions for many market segments including: Corporate, Education, Hospitality, Government and the Commercial Real Estate Community.