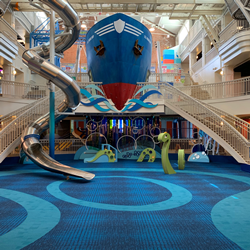 As a family owned and operated business for over 35 years, Eagle Mat provides innovative floor offerings and outstanding workmanship
BALTIMORE (PRWEB) June 19, 2019
Port Discovery Children's Museum is ranked among the top children's museums in the United States. Since 1998, the Museum has served more than 5 million children and families through their play-to-learn philosophy.
Over the last several months, Port Discovery Children's Museum has undergone a major transformation to bring visitors new state-of-the-art exhibits and improved visitor amenities. The project is part of a $10.5 Million Capital Campaign for the Museum, and marks the Museums largest transformation since opening in December 1998.
Eagle Mat & Floor Products is pleased to be a part of this unique, exciting new project that will help children and families explore and learn through play at Baltimore's Inner Harbor.
Eagle Mat was recently granted a new contract to furnish and install SafeLandings® Shock Absorbing Carpet System at Port Discovery Children's Museum. SafeLandings Systems delivers the most advanced technology in safety flooring solutions for indoor play areas available today. Since 1997, the company has been providing a unique fall-rated safety flooring product that offers outstanding impact protection, superior hygienic properties, and added facility value. SafeLandings is the leading provider for fall rated safety flooring for children's indoor play spaces in public and community areas, workplace children centers, hospitals, airports, pediatric medical centers, physical and occupational therapy centers, as well as elder care facilities and other areas.
"SafeLandings is a one of a kind superior product providing versatility for indoor play areas worldwide. We are delighted to partner with Eagle Mat and Port Discovery Children's Museum project," said Ray Kanter, Founder of SafeLandings. "As a family owned and operated business for over 35 years, Eagle Mat provides innovative floor offerings and outstanding workmanship. In addition to premium product offerings, Eagle Mat is also renowned for its expert installation and carpet maintenance services. Trace Ashton and his team's extensive experience has proven its knowledge in providing exceptional design, installation, and project management to ensure the success of each project. We look forward to working on more projects with Eagle Mat in the Mid-Atlantic Region."
About Eagle Mat Floors & Products
Eagle Mat & Floor Products is the premier flooring dealer, providing sales and installation of commercial flooring coverings for over 35 years. Eagle Mat specializes in the Education, Hospitality, Government, Workplace, and Multi-family sectors. Our specialty is in large scale renovation projects that include specification, turnkey and project management services.
Eagle Mat's floor covering experts will guide you through the buying process from concept to design and installation. To learn more about specifying commercial flooring and installation services with Eagle Mat and Floor Products visit https://www.eaglemat.net/