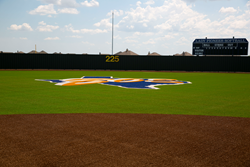 "Beautiful, durable, and easy to maintain. It has been and will continue to be a great partnership with Hellas," says Eagle Mountain-Saginaw AD Brent Barker.
FORT WORTH, Texas (PRWEB) February 10, 2021
The first day of practice for Texas high school baseball was January 22nd, but once the season is concluded for the Chisholm Trail Rangers and Saginaw Rough Riders Hellas Construction will upgrade both baseball and softball fields at the respective schools. Chisholm Trail and Saginaw High School will install Major Play® Matrix Helix turf with GeoPlus CoolFill® infill and Gmax Drain® Pad for their baseball and softball fields. This is the same system that was installed at Boswell High School at the end of 2019.
Brent Barker Eagle Mountain-Saginaw Athletic Director said, "Hellas most recently finished sub-varsity fields at two of our high schools. Like all our Hellas constructed GeoPlus turf fields, these last two are beautiful, durable, and easy to maintain. It has been and will continue to be a great partnership."
GeoPlus CoolFill is composed of coconut and cork fibers. This USDA-certified Organic Infill absorbs and releases water, lowering field temperatures by as much as 40 degrees and improving bio-mechanical performance. Major Play® precisely emulates natural grass and clay without the maintenance cost associated with both. Each area of the field is tailor-made for pitching, hitting, sliding, ball bounces and speed consistent with the best natural grass ballparks. Gmax Drain is a pre-fabricated pad specially designed to flex upon impact, providing superior player protection over a 40-year lifespan.
Hellas and Eagle Mountain-Saginaw have had a great relationship. Over the last 18 months Hellas has successfully completed 12 athletic facility projects.
Randy Bullock, Senior Vice President said, "EMSISD has set a very high standard in the market space of installing Matrix Helix with GeoPlus infill and Cushdrain shock pads on all of their football/soccer facilities. They have also installed the Matrix Major Play with Helix technology and GeoPlus Coolfill infill with Gmax drain pads on their high school baseball and softball fields. The district personnel studied and looked at different products and concluded that they would install the safest and most heat resistant product on the market."
Hellas Construction, which has a regional office at the Star in Frisco, TX, takes a turn-key approach to athletic facilities. Hellas owns and operates its own construction and installation equipment using its own crews. The firm also manufactures its own synthetic turf, track and court surfacing materials at three factories in the United States. These investments allow Hellas to meet the timing, budget, and quality demands of its clients without reliance upon third parties.
Hellas Construction, Inc. headquartered in Austin, TX, is the largest vertically-integrated sports construction contractor in the United States, specializing in the general construction of sports facilities and sports surfaces. Hellas champions innovative artificial turf manufacturing, base construction, field, track and tennis planning, along with installation and maintenance. http://www.hellasconstruction.com
Eagle Mountain-Saginaw ISD, encompasses 73 square miles in the Northwest corner of Tarrant County. The district serves 21,000 students from Saginaw, Blue Mound, portions of the City of Fort Worth, and unincorporated Tarrant County. The mission of Eagle Mountain-Saginaw Independent School District is to foster a culture of excellence that instills a passion for a lifetime of continuous achievement in every student.