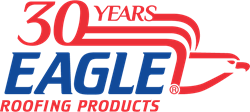 RIALTO, Calif. (PRWEB) January 04, 2019
Eagle Roofing Products, the industry leader in concrete roof tile manufacturing and innovation, has reached an exciting milestone of 30 years in the manufacturing industry. Headquartered in Rialto, California, the company has been family owned and operated since its founding in 1989 by Robert Burlingame.
Over the course of 30 years and counting, Eagle Roofing Products has grown from a small business with one high-pressure concrete tile extrusion machine and five employees to a company with four concrete roof tile manufacturing facilities and 700 employees, becoming the largest USA owned, USA made concrete roof tile manufacturer in the United States.
The company contributes its successes and growth to a philosophy that revolves around growing personal relationships. Each and every employee performs their role with the singular goal of customer service, granting Eagle Roofing Products with the unmatched reputation for quality and satisfaction. Harvesting these customer relationships has also allowed for Eagle Roofing Products to develop innovative roofing solutions and products to meet customer specific needs.
"We are celebrating our 30th anniversary by recognizing the amazing commitment of our team members and the unrelenting support of our builder, roofing contractor, distributor and design professional customers," said John Campbell, Vice President of Sales and Marketing. "Customers can expect new, innovative products to be launched throughout 2019 and, in order to ensure another 30 years of success, we will be refocusing our sales and marketing efforts on expanding the concrete roof tile market throughout North America."
About Eagle Roofing Products
Eagle Roofing Products is a division of Burlingame Industries, a California based, privately held family organization that has been in the concrete roof tile industry for over 40 years. Founded in 1989 with five employees, Eagle has grown to four manufacturing plants, five design centers and a work force of 700 employees. As the largest USA made, USA owned concrete roof tile manufacturer in the United States, Eagle Roofing Products specializes in providing concrete tile roofing solutions for the building industry.