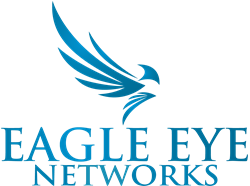 Eagle Eye and Cameramanager dealers world-wide will now have a wider selection of cloud video products to meet their customers' needs.
Austin, TX (PRWEB) June 14, 2017
Eagle Eye Networks, Inc. today announced the acquisition of Panasonic Cloud Management Service Europe B.V. (PCMSEU) makers of Panasonic Cameramanager and Panasonic Nubo. PCMSEU operated the largest number of cloud recorded cameras in Europe and now combined with Eagle Eye creates the world's first global cloud video surveillance company. Panasonic Cloud Management Service Europe B.V. will be renamed 'Eagle Eye Networks B.V.' and will function as the European Headquarters for Eagle Eye - selling and supporting the expanded Eagle Eye product line.
"Our dealers in Europe have responded with overwhelming support for this acquisition. It will greatly enhance our sales and support efforts in the European market," said Dean Drako, CEO of Eagle Eye Networks. "The strong and experienced team in cloud video surveillance at our new Eagle Eye EMEA Headquarters will make it possible for us to provide a tremendous level of support to all of our dealers in the region."
All of PCMSEU's employees have been retained. The management team of Rishi Lodhia and Tijmen Vos are continuing to drive the business as Managing Director and Technical Director of Eagle Eye Networks EMEA. The addition of the full Cameramanager and Nubo engineering and support teams will greatly enhance the size, scope, and investment by Eagle Eye in cloud video solutions worldwide. Rishi Lodhia stated, "This is a unique opportunity to bring two pioneers in cloud video surveillance together and deliver a broad portfolio of innovative cloud surveillance solutions. Eagle Eye and Cameramanager dealers worldwide will now have a wider selection of cloud video products to meet their customers' needs."
Products
The Panasonic Cameramanager product will be renamed "Eagle Eye CameraManager." Eagle Eye plans to increase investment and support of the product to expand its sales globally for those customers that desire direct camera to cloud connectivity. The CameraManager solution does not have an onsite bridge device, as the Eagle Eye Cloud Security Camera VMS does, and can therefore be more cost effective for smaller camera counts per location. The company expects to quickly expand the global markets that Eagle Eye CameraManager serves.
CameraManager's cloud surveillance products are popular amongst resellers and customers for their reliability, ease of use, and rich feature set, which includes optional storage methods, motion detection, push notifications, and cloud based video analytics. CameraManager is the ideal video solution for small and medium sized businesses seeking an affordable, quality cloud solution with small camera counts.
Eagle Eye Cloud Security VMS will continue to be sold in Europe by Eagle Eye Networks B.V. for customers that require a large selection of camera interoperability or need more than a few cameras per location. Eagle Eye Cloud Security Camera VMS currently supports over 1,000 different digital cameras, over 10,000 different analog cameras, up to 10 years of video retention, and can handle very large camera counts.
Panasonic Nubo (http://www.nubocam.com) is part of the acquisition and will be renamed "Eagle Eye NuboCam." The revolutionary LTE camera has opened up the category of mobile video monitoring. It is a versatile LTE camera that connects anytime and anywhere over a cellular or wireless network. It offers consumers and businesses the ability to see their valuables anywhere, anytime. The Eagle Eye NuboCam will continue to be promoted, integrated, and enhanced.
The combined offering of the Eagle Eye Cloud Security Camera VMS with the new Eagle Eye CameraManager and Eagle Eye NuboCam will provide Eagle Eye dealers the broadest product line available from any cloud video provider in the world.
Datacenters
The acquisition of PCSMEU will provide two additional datacenter locations in the Netherlands to support operations. The Eagle Eye Cloud Security Camera VMS is powered by multiple Tier IV datacenters globally distributed. The infrastructure has been specifically designed for video and is managed directly by Eagle Eye personnel to provide maximum security, performance, and availability. The datacenters also support developer activity for the cloud-based Eagle Eye Video API, which allows businesses and developers to integrate camera video into their applications without having to worry about a complex infrastructure. Eagle Eye Networks operates eight datacenters, located in California, Texas, Canada, Japan (x2), UK, and the Netherlands (x2).
To learn more about Eagle Eye Networks, visit https://www.eagleeyenetworks.com/eagle-eye-networks-acquires-panasonic-cloud-management-service-europe-b-v/
About Eagle Eye Networks
Eagle Eye Networks, Inc. delivers the first on-demand cloud based security and operations video management system (VMS) providing both cloud and on-premise recording. Eagle Eye Networks also provides a cloud video API for integrations and application development. The Eagle Eye Platform offers secure, encrypted recording, camera management, mobile viewing and alerts, and first responder realtime video access – all 100% cloud managed. The Eagle Eye Cloud Security Camera Video Management System supports a broad array of IP and analog cameras while using Intelligent Bandwidth Management™, making it easy to deploy at single and multiple sites. The API platform uses the Eagle Eye Big Data Video Framework™, with time based data structures used for indexing, search, retrieval and analysis of the live and archived video. Eagle Eye Networks sells through authorized reseller and installation partners. The headquarters is at 4611 Bee Caves Rd, suite 200, Austin, Texas, 78746. For more information, please visit http://www.EagleEyeNetworks.com or call +1-512-473-0500.
About Panasonic Cloud Management Service Europe BV
PCMSEU was a subsidiary of Panasonic and the leading provider for cloud video surveillance in Europe. PCMSEU offered cloud based video surveillance connecting PC, Mac, smartphone and tablet to cameras via the cloud. Created in 2007 by Rishi Lodhia and Tijmen Vos the company is based in Amsterdam and has customers in the Netherlands, Belgium, Denmark, Sweden, Finland, Norway, Germany, Poland, Switzerland, Brazil, Latvia, Russia, Turkey, Spain, UK, France, Italy, USA, and Singapore.
About Eagle Eye Networks EMEA B.V.
Eagle Eye Networks B.V. is a subsidiary of Eagle Eye Networks, Inc. providing sales support and development resources in Europe, Middle East, and Africa for the full line of Eagle Eye products. For more information visit http://www.EagleEyeNetworks.com and http://www.NuboCam.com. +31 (0)88 00 68 450.
PRESS CONTACT INFO
USA
Deborah Demarchi
Director of Marketing
Eagle Eye Networks, Inc.
+1-512-473-0500
EUROPE
Xander van Baarsen
Marketing Manager
Eagle Eye Networks B.V.
+316 46 27 32 51