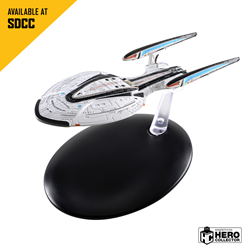 Eaglemoss Hero Collector pulls into port at San Diego Comic-Con with its largest collection of highly detaied Star Trek starships and collectibles.
NEW YORK (PRWEB) July 16, 2019
Eaglemoss Hero Collector, designers, manufacturers and publishers of high-quality collectibles from across the world of pop culture, pulls into port at Comic-Con International: San Diego with its largest ever assembled range of starships and other vessels from its officially authorized Star Trek collections, all of the most popular of which will be on sale at special prices at Booth #4337 beginning Wednesday, July 17 through Sunday, July 21 at the San Diego Convention Center.
All of Eaglemoss Hero Collector's Star Trek programming at SDCC is part of the third annual "Summer of Trek" initiative, including a sweepstakes in which the Grand Prize is an Ocean View Voyage for 2 aboard the SOLD OUT Star Trek: The Cruise IV. Full details may be found at GetYourTrekOn.com.
First looks on the exhibit floor will include the Klingon Raider from Star Trek: Discovery: The Official Starships Collection, the U.S.S. Altair "Doug Drexler Voyager Concept Ship" from Star Trek: The Official Starships Collection, and two XL Editions: The Runabout and the U.S.S. Excelsior NCC-2000.
In addition, two new ships from the Star Trek: The Official Starship Collection will make their world debut at SDCC – the Matt Jefferies Shuttle Concept Bonus Issue and the Star Trek Phase II Shuttle Concept Bonus Issue.
Selections available for purchase from Star Trek: The Official Starships Collection will include the Planet Killer Special Edition and the U.S.S. Enterprise NCC-1701-F and its Online Variant, both ordinarily exclusive to the Eaglemoss Shop. There will also be the oversized XL Edition of the U.S.S. Enterprise NCC-1701 as depicted on Star Trek: Discovery and, from the Star Trek: Discovery Official Starships Collection itself, the U.S.S. Edison NCC-1683.
And since not everyone can beam into Comic-Con, Eaglemoss Hero Collector has also created an online "virtual booth" (http://bit.ly/2NVplgC) that lets anyone purchase any or all of the products offered for sale on the exhibit floor, while supplies last.
Fans looking to enjoy substantial savings on Eaglemoss Hero Collector products, as well as access to exclusive offers, and encouraged to subscribe (http://bit.ly/32lUg90) to their favorite series. Fans can also go online to the Eaglemoss Shop (http://bit.ly/32i3S4G) to purchase collectibles individually at standard prices.
# # #
--
HERO COLLECTOR is Eaglemoss' imprint for genre collectibles and is one of the world's leading producers of figurines and fantasy die-cast vehicles. It makes products based on many of the world's most popular entertainment brands including Marvel and DC comics and movies, Star Trek, Doctor Who, The Walking Dead, Game of Thrones, Alien, Predator, Back to the Future, WWE, The Wizarding World and James Bond. For more information, visit http://www.herocollector.com.
CBS CONSUMER PRODUCTS manages worldwide licensing and merchandising for a diverse slate of television brands and series from CBS, CBS Television Studios and CBS Television Distribution, as well as from the company's extensive library of titles, Showtime and CBS Films. Additionally, the group oversees online sales of programming merchandise. For more information, visit http://www.cbsconsumerproducts.com.
™ & ©2019 CBS Studios Inc. STAR TREK and related marks and logos are trademarks of CBS Studios Inc. All Rights Reserved.