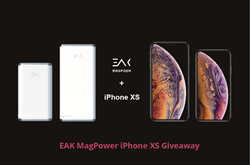 SAN FRANCISCO (PRWEB) September 27, 2018
EAK Design Studio has launched an Indiegogo campaign for their newest creation, MagPower, the thin and ergonomic Qi Wireless Charger Power Bank and Game pad. Now, EAK is hosting a global giveaway, one lucky winner will take home a brand new, unlocked iPhone XS 64GB smartphone.
To celebrate the MagPower launch on Indiegogo, EAK Design Studio is excited to offer an iPhone XS giveaway. One lucky winner will receive a brand-new iPhone XS 64GB smartphone (MSRP $ 999.00) in the color of their choice. This giveaway open to everyone who are above the age of 18. No purchase necessary to enter or win. The winner will be selected in a random drawing and announced October 30th, 2018 on the giveaway landing page, EAK official website and social media. Terms and conditions may apply.
The MagPower N1 and N2 Wireless Charger Power Bank and the N2 Gamepad offer a fusion of technology and convenience in the form of a magnetic power bank that attaches to a smartphone without sacrificing ergonomic design. The ergonomic design that matches style with comfort allowing users to comfortably hold the smartphone and the MagPower for extended periods of time. All MagPower products are compatible with Android and Apple devices including the latest iPhone XS, iPhone XS Max, iPhone XR as well as iPhone X and iPhone 8. Customers can choose from a 4000mAh and 8000mAh capacity model, which are both available in white and black colors and can charge up to three devices simultaneously.
The MagPower campaign on Indiegogo (https://igg.me/at/eak) is already 21% of the total goal of $25,000. The MagPower has prototyped with the final design and ready to go with funds pledged by Indiegogo backers to go toward mass production and shipping. Pledges start as low as $36 for one MagPower N1 Wireless Charger Power Bank and goes up to $102 to include one of each N1, N2, and N2 Gamepad.
EAK MagPower Indiegogo page: https://igg.me/at/eak
More iPhone XS giveaway information can be found at https://gleam.io/b3bzu/eak-magpower-iphone-xs-giveaway
A product demo of the MagPower Wireless Charger Power Banks and Game Pad can be seen on YouTube. https://www.youtube.com/channel/UCFtD-apLH6TH8HDef5X7Q1g?view_as=subscriber
Product images, and media kit can be download at https://drive.google.com/drive/folders/1DGbgDo7wDAcXxrRtnvl_LaxUeu0BIOPR?usp=sha
About EAK Design Studio
EAK Design Studio combines leading-edge technology, ergonomic and sleek design. Focusing on the demands of on-the-go consumers to deliver groundbreaking power banks that revolutionize the way smartphones are used.
Follow us
Facebook: https://www.facebook.com/EAKUSA
Twitter: https://twitter.com/EAKSTUDIOUSA
Instagram: https://www.instagram.com/eakstudio.us
YouTube: https://bit.ly/2MztupA
Official website: http://eakstudio.us
Media Contact
Andrew OuYang
iDée Creatives Marketing Consulting Inc. on behalf of EAK Design Studio
andrewouyang(at)ideecreatives.com