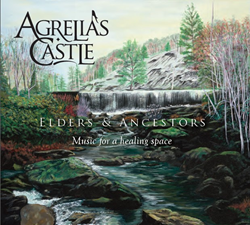 Elders and Ancestors is an artists' journey together through the cancer landscape, with songs intended to create peace, joy and hope.
Nashville, TN (PRWEB) September 01, 2015
During times of illness, sadness and loss, one often wishes to be uplifted, and transported to another time and place. Elders and Ancestors, a new album by Agrelia's Castle, offers just such an escape with relaxing melodies, Native American-style flute, achingly-beautiful vocals, nature sounds, sitar, chants, and melodic dreamscapes. Beyond the album's gorgeous sound and masterful production, the album's resounding beauty springs from the love story behind it all, and the gracious gift it offers to the world. Elders and Ancestors is being released today by three-time GRAMMY®-nominated body/mind/spirit music label, Mysterium Music, of Hanover, PA.
Elders and Ancestors is finding early acclaim on the modern music landscape. In a recent No Depression review, music writer Ted Slowik suggested that some of the tracks, like "Adrift," are "...reminiscent of instrumental interludes from Dark Side of the Moon-era Pink Floyd." Dick Metcalf of Rotcodzzaj.com writes "...it's filled with healing power and you owe it to your spirit to immerse yourself," and Mike Scott (founder/lead singer, The Waterboys) said, "It's like stepping into a parallel world of this gorgeous hypnotic healing music and April sings like an earth angel."
Agrelia's Castle is the name that Paul and April Brown call themselves when they collaborate musically, and their inspiration to do so comes from a deeply-personal place. April explains "Our story started in June of 2003, when Paul and I met in Memphis on Beale Street. He was playing with a band called FreeWorld. Awesome band. Not two months later, on July 29, 2003, I found out I had breast cancer. So, our story has always been entwined with my cancer journey."
While Paul Brown is a GRAMMY® Award-nominated Memphis/Nashville producer and keyboardist (currently touring the world with rock band The Waterboys), the album's liner notes share how April's multitude of musical abilities emerged during a Wind River Cancer Wellness Retreat. "We enjoyed a small drum circle around a bonfire and at some point, Shannon (one of the co-founders) brought out her Native American Style flute. I have always loved the sound of the flute, but now I had a desire to learn to play this magical and soothing instrument."
Paul gave April a Native American-style flute for her birthday that year, and, eventually, the duo began to create a meditation and relaxation album for Wind River, as a way to give back. Friends, family, and fellow patients embraced their music, and encouraged them to share the music more widely. Their first collaboration was "Spirit Dreaming," and they have been working toward this full-length album, Elders and Ancestors, ever since.
The album, April says, is "an artists' journey together through the cancer landscape, with songs intended to create peace, joy and hope."
A serene landscape painting of April's is the artwork on the album cover, and the music on Elders and Ancestors is equally calming. "Spirit Dreaming" features April's Native American-style flute playing and "Sonnet" showcases her soothing vocals. "Breathe" features Memphis sitar Master Richard Cushing with Nashville guitar and cello Master Tom Shinness, and it recalls George Harrison's Indian-influenced work, both with the Beatles and as a solo artist. Brown's excellent keyboard work on Fender Rhodes and the Hammond B3 are featured throughout. GRAMMY® Award-winner Mike Farris delivers an unforgettable and impassioned guest vocal on "Wayfaring Stranger."
With such influential musical friends lending their soulful talents to the collaboration, the results are powerful, though in this context the star power is understated. Elders and Ancestors is intended to provide solace to the listener, and Paul says for all his musical accomplishments and rock star-like moments rubbing shoulders with celebrities, he finds the New Age album he recorded with his wife to be his most meaningful and rewarding achievement. At its heart, Elders and Ancestors is really their love story, full of grace, and the intention to pay their gift forward in music while also thanking those who have, in April's words, "...taught me how to live, and die, under difficult circumstances, with beauty and grace. This music is dedicated to all of them."
"It is surely a journey unlike any other we've ever taken together," Paul says.
Elders and Ancestors will be released via all major online retail outlets, including Amazon and iTunes, on September 1, 2015 by Mysterium Music, an award-winning indie record label dedicated to musical works for healing, relaxation, and rejuvenation of the mind, body, spirit, and soul.
Renowned New Age music writer Michael Diamond (Music and Media Focus) commented, "If I had to choose one word to describe the music of Elders & Ancestors, it would be 'enchanting.' Its diaphanous tones and textures, along with strings, subtle percussion and sounds of nature create a magical soundscape for ethereal vocals and earthy Native American flute to drift dreamily over."
For interview requests, review copies, or artwork, please contact Beth Hilton, The B Company, at 310-560-8390, or bethhilton@theBcompany.com.
To learn more, or to share a journey, feel free to connect with the artists at the following places:
Facebook: http://www.facebook.com/AgreliasCastle or http://www.facebook.com/MysteriumMusic
Twitter: @PAULBROWNAP63
Ocean Soul Studios: http://www.oceansoulstudios.com
Mysterium Music's official website: http://www.MysteriumMusic.com