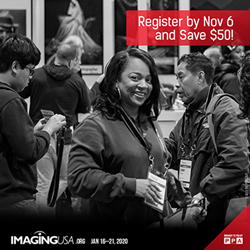 Imaging USA is the first major, annual photography event of the year, where photographers seek to kick-start their business.
ATLANTA (PRWEB) September 19, 2019
Registration for Professional Photographers of America's annual photography convention and expo is now open. More than 10,000 photography professionals will take over Nashville as Imaging USA 2020 is held January 19-21 in Nashville, Tennessee at the Gaylord Opryland Resort & Convention Center. Imaging USA is known worldwide for three days of photography workshops, business education and creative inspiration as well as some exclusive shopping.
Imaging USA is the first major, annual photography event of the year, where photographers seek to kick-start their business. The event dates back to 1880 when it began as the annual convention and trade show for Professional Photographers of America (PPA). The inspiration, skills and sometimes new equipment picked up at Imaging USA can give a photographer a clear path for their professional year. And with 10,000 other photographers present, lasting connections form at Imaging USA.
Early-adopter photographers flock to Imaging USA for its three-day Imaging Expo trade show, featuring more than 600 booths, live presentations and hands-on demonstrations of new photo-related products by some of the most respected companies in the industry. Imaging USA's renowned educational classes concentrate on improving photographers' business skills. This year's event also features two special keynote addresses from Jim Kwik and Vanessa Van Edwards, an extensive photographic display of the International Photographic Competition collection, mentoring opportunities, portfolio reviews, several all-inclusive parties and much more.
Early bird registration pricing, reduced by $50, is being offered for members of PPA and non-members alike. There are many different ways to experience Imaging USA, including but not limited to the full conference, a full conference plus pre-conference class option and Expo-only pass. Early Bird pricing ends November 6, 2019.
Visit ImagingUSA.org for complete registration information, pricing options, and to book your hotel room to get the best rates. Keep checking back for updates to the event schedule.
About PPA:
Professional Photographers of America (PPA) is the largest and longest-standing nonprofit photography trade association. Founded in 1868, PPA currently helps 30,000+ pros elevate their craft and grow their business with resources and education, all under PPA's core guiding principle of bridging the gap between photographers and consumers.