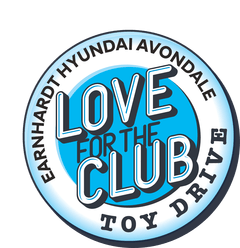 AVONDALE, Ariz. (PRWEB) December 04, 2020
With the holidays right around the corner, Earnhardt Hyundai is accepting toy donations as a part of its Love for the Club Toy Drive. The toy drive is being held now through Dec. 19 and each donation is provided to the Boys and Girls Club of the Valley.
Earnhardt Hyundai will provide each donor with one sweepstakes opportunity to win a free vehicle from the dealership. An eligible toy donation or $10 donation during the donation time period will earn the donor a free sweepstakes opportunity. Donated toys must be in new condition in their original packaging and without any wrapping paper. Earnhardt Hyundai will use any cash donations to purchase toys to give to the Boys and Girls Club of the Valley. There is a limit of one sweepstakes entry per person.
The winner of the 2020 Love for the Club Toy Drive Sweepstakes will receive a pre-owned 2013 Hyundai Elantra sedan with 89,000 miles on the odometer. Delivery of the Grand Prize will take place on or around Dec. 21 at Earnhardt Hyundai. To qualify for the sweepstakes donors must be at least 18 years of age, a legal United States' resident and hold a valid driver's license. Additional terms and conditions may apply.
Donations will be accepted at Earnhardt Hyundai, 10401 W. Papago Freeway, Avondale, AZ 85323, from now until 11:45 a.m. on Saturday, Dec. 19. For additional information on the Love for the Club Toy Drive individuals can visit the toy drive's webpage on the Earnhardt Hyundai website, earnhardthyundai.com/love-for-the-club. A member of the Earnhardt Hyundai team can also be reached by phone, 833-331-0148, to assist with any specific inquiries.