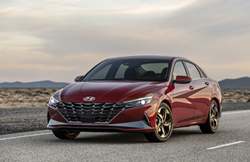 SCOTTSDALE, Ariz. (PRWEB) November 06, 2020
Starting now, and through Nov. 15, Earnhardt Hyundai North Scottsdale is doubling its military program savings in honor of Veteran's Day. Qualifying current and former members of the military can be eligible for up to a $1,000 credit to put towards their purchase of a new Hyundai vehicle.
The military program offer at Earnhardt Hyundai North Scottsdale is available for active duty, reservist, National Guard, veteran and retired U.S. Military personnel who are currently serving or have served in the U.S. Air Force, Army, Coast Guard, Marine Corps, Navy, National Guard or reserves. Spouses of those who have served or are serving are also eligible for this offer. Some restrictions on eligibility may apply.
Prospective customers looking to take advantage of this doubled offer can apply the $1,000 credit towards the purchase of any new Hyundai vehicle from Earnhardt Hyundai North Scottsdale. The dealership has some of the latest additions to the Hyundai lineup on hand, including the 2021 Hyundai Kona, 2021 Hyundai Tuscon and 2021 Hyundai Palisade. At the time of publication, the Scottsdale dealership has nearly 500 vehicles in its new vehicle catalog.
Additional details on Earnhardt Hyundai North Scottsdale's military program offer and the Veteran's Day Savings deal can be found on the dealership's website, northscottsdalehyundai.com. Earnhardt Hyundai North Scottsdale is located at 8445 E Frank Lloyd Wright Blvd, Scottsdale, AZ 85260 and its sales department is open seven days a week. Prospective shoppers can visit the dealership Monday through Friday from 8 a.m. to 9 p.m., Saturdays from 8 a.m. to 8 p.m. or Sundays from 10 a.m. to 6 p.m. Members of the Earnhardt Hyundai North Scottsdale sales team can be contacted by phone with any questions, 888-316-9966.