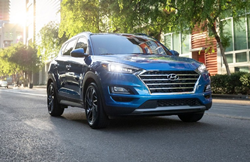 AVONDALE, Ariz. (PRWEB) November 12, 2020
Earnhardt Hyundai is rolling out November lease and finance incentives just in time for the holiday season. The dealership's Thanksgiving Sales Event is going on now until Jan. 4 and it is bringing major savings for Avondale and Phoenix shoppers.
Earnhardt Hyundai is offering low-payment lease opportunities for a range of in-stock new Hyundai vehicles as well as major savings and low-interest financing offers. Qualifying shoppers may be eligible to lease a new 2021 Hyundai Tucson SE for just $209 per month for 36 months as a part of the Thanksgiving Sales Event. Those looking to finance a new 2021 Tucson may receive 0% APR (Annual Percentage Rate) financing for 72 months on select models.
Select 2020 Hyundai Sonata SE models are available to lease for $179 per month for 36 months or to finance with 0% APR for 72 months for qualifying buyers. This same low-interest rate is available for select 2020 Hyundai Santa Fe models as well as an available $229 per month for 36 months lease opportunity.
Shoppers looking for a sleek and sporty sedan may be interested in the 0% APR opportunity available on select 2020 Hyundai Elantra SE models. Select Elantra sedans may also be leased for $149 per month for 36 months. The three-door 2020 Hyundai Veloster 2.0L is available to lease for just $169 per month for 36 months and has a 0% APR offer for those looking to finance their new vehicle.
All finance and lease opportunities are available only for qualified buyers and lessees. Customer credit is subject to approval by Hyundai Motor Finance prior to offer signing. Additional terms and conditions may apply.
Anyone can view the available Thanksgiving Sales Event promotions on the Earnhardt Hyundai website, earnhardthyundai.com. Members of the dealership's team can be reached by phone to assist with any questions, 833-331-0148. Earnhardt Hyundai is located at 10401 W Papago Fwy, Avondale, AZ 85323 and is open seven days a week.