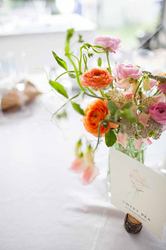 MISSOULA, Mont. (PRWEB) March 15, 2021
Earth Within Flowers, is pleased to announce its flower delivery service to the surrounding areas near Missoula, Montana. Melissa the florist, is encouraging local residents to utilize this new service, because the floral arrangement delivery makes gift-giving more convenient and stress-free. Show love and appreciation by sending flowers to friends and family for holidays, birthdays, and corporate events. Earth Within Flowers has many gorgeously designed dried flower arrangements and bouquets to select for all types of events.
Melissa Lafontaine is an expert florist that has many years of experience arranging elegant and beautiful bouquets using the local landscape for inspiration. As every event deserves a special touch, Earth Within Flowers prepared the bouquet's arrangement for every occasion. Customers are encouraged to call ahead to schedule a flower delivery for anniversary, birthday, graduation, or any type special events.
On the Earth Within Flowers website it is easy to order the flower delivery service. Customers can visit the floral arrangement delivery page of the website to learn additional details about how to order https://earthwithin.com/floral-arrangement-delivery/. The flower delivery services showcase Montana's natural beauty and a textured, poetic style. Melissa Lafontaine has stated "We love using our local inspiration and sharing these designs with people in the Missoula area. Recipients will be thrilled on to receive a beautiful arrangement or bouquet of flowers. We ask that orders for floral deliveries in the Missoula area be made at least 48 hours in advance to ensure that we are able to complete your order."
During the summer months, the company does not fulfill orders on Saturdays or Sundays due to our wedding commitments. Earth Within Flowers is able to deliver to 59801, 59802, and 59803 ZIP Codes for as low as $15. Deliveries to 59808 for as low as $20. Flower delivery in other locations outside the service area will need to be quoted. For those who would want a flower delivery outside of the normal radius, it is advisable to call the company ahead of time in order to fulfill the request. The minimum order for flower delivery is $75. For a small order, please schedule a pickup from their studio.
About Earth Within Flowers
Earth Within Flowers is a flower shop located in Missoula, Montana. The shop values sourcing their flowers from local farmers and natural areas in the local region to incorporate the beauty of the Montana landscape. Earth Within offers floral wedding design, DIY floral workshops, seasonal wreaths, and flower delivery services in Missoula and the surrounding areas.
To find more details about Earth Within Flower's flower delivery service, call Melissa Lafontaine at (406) 240-1367 or visit the website https://earthwithin.com.