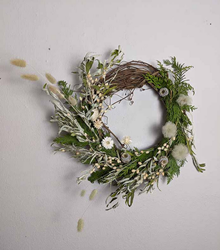 MISSOULA, Mont. (PRWEB) November 19, 2020
Earth Within Flowers is hosting a virtual DIY wreath weaving paired with appetizers and cocktails! The said wreath weaving event will be hosted on Sunday, December 6th, 2020, from 4 pm to 6 pm.
The florist in Missoula MT, has been hosting virtual DIY floral workshops for 6 years and invites the local community to participate in a night of activities with the use of blooms sourced locally and harvested ethically. This year, the evening is about welcoming the holiday season with a night of DIY wreath-weaving, appetizers, and cocktails in a virtual class hosted by Earth Within Flowers founder Melissa Lafontaine. Participants will be virtually guided in learning techniques of wreath weaving, using locally-grown blooms, foliage, as well as herbs. Additionally, three seasonal cocktail/mocktail and appetizer recipes are likewise provided. It should be noted that ingredients and materials are open for delivery or pick up as per the guest's preference.
The evening is designed for individuals to learn a new skill while being able to decorate their space with a seasonal, virtual class in the comfort of their homes. Attendees may opt for Wreath, Aps, and Cocktails, or a Wreath only class upon checkout. Attendance cost ranges from $65.00 to $105.00. The flower shop also provides a $10 off option for repeat partakers with past wreaths and want to re-purpose them. "WREATHLOVE" is the given code, and more information is provided at checkout.
Earth Within Flowers is known for their unique approach of creating flower arrangements that best represents the seasonal blooms and landscape of northwest Montana. True to the company's' mission of transforming natures delicate and simple beauty and the changing seasons, Earth Within Flowers prioritizes local farmers as well as local materials in sourcing supplies. Each flower arrangement exceptionally captures the essence of nature into every occasion.
Melissa Lafontaine, owner and florist of Earth Within Flowers, believes in floral designs bespoke their client's individual story and preference. She ensures delivery of only the freshest flowers that uniquely represent Montana. As a reliable florist in Missoula MT, who deeply understands the beauty of flowers and plants, she aims to inspire other women in creating wonderful wreaths for all occasions which are perfect for holiday decorations.
About Earth Within Flowers
Earth Within Flowers is more than just an ordinary flower shop. From its humble beginnings in Brooklyn, New York, their exceptional services and professionalism resulted to opening the now 6-year old flower shop in Missoula. It caters to a range of services, including full-service wedding flowers, A la Carte Wedding flowers, and virtual DIY floral workshops.
###
For those interested in participating in the said event, simply call (406) 240-1367. Visit https://earthwithin.com/product/12-6-virtual-diy-wreaths-aps-cocktails/ for more information about the company's virtual classes and other floral services.