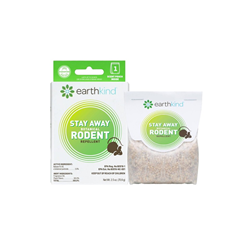 The launch of Stay Away® Rodent furthers our commitment to product innovation, sustainability, and to protecting the health of the home environment. We are thrilled to continue leading the way in the pest control industry's efforts toward natural product innovations. -Kari Warberg Block, CEO/Founder
BISMARCK, N.D. (PRWEB) December 03, 2019
EarthKind®, manufacturers of award-winning, plant-based pest repellent products, has added Stay Away® Rodent to its line of home pest repellents. The botanical rodent repellent is federally registered by the U.S. EPA for use in all 50 states and District of Columbia, making reliable DIY pest prevention available to all consumers nationwide.
EarthKind® is on a mission to reduce consumer reliance on harmful pest control methods. Using unique blends of plant fibers and essential oils proven to repel rodents in the home, EarthKind® makes pest control simple -- without killing and without poisons.
Stay Away® Rodent mirrors EarthKind®'s award-winning Fresh Cab® Botanical Rodent Repellent formula, which was the first botanical rodent repellent, for private and professional use, to be Federally Registered by the EPA. While Fresh Cab® is designed to function in enclosed, non-living areas such as RV's, sheds, attics, storage areas, stored vehicles, and in farm vehicles and equipment, EarthKind®'s latest Stay Away® Rodent pouch brings the power of Fresh Cab® into the home. Stay Away® Rodent's highly effective formula is safe for use around children and pets when used as directed.
"We are excited to expand our Stay Away® line with the our new Stay Away® Rodent product," comments Kari Warberg Block, CEO and Founder of EarthKind. "At EarthKind®, we are determined to always uphold, honor, and propel the power of Mother Nature into our products, so that we can foster a healthy environment for the home and our families," states Warberg Block, "Elevating EarthKind®'s original Fresh Cab® formula to expand its reach into the home is not only gratifying, but helps continue to give consumers safe, natural, effective and eco-friendly options for pest control."
Stay Away® Rodent's fast-acting, plant-powered ingredients are sourced with 80% coming from American regenerative family farms, upholding EarthKind's commitment to sustaining a transparent ingredient supply-chain. The formula, consisting of balsam fir oil, lavender oil, Spanish rosemary oil, cedar oil, orange oil, lemon oil and plant fibers, generates a powerful scent that, while pleasant to us, effectively disturbs mice and rats' highly-sensitive scent receptors, making them stay away without causing them, you, or the environment any harm.
Stay Away® Rodent is projected to follow in the praised footsteps of the brand's Fresh Cab® Botanical Rodent Repellent, which has received over 1200 reviews averaging 4.5* out of 5 from independent, third-party verified customers.
"The launch of Stay Away® Rodent furthers our commitment to product innovation, sustainability, and to protecting the health of the home environment by keeping it free from pests. We are thrilled to continue leading the way in the pest control industry's efforts toward natural product innovations" comments Warberg Block.
As the fifth addition to the Stay Away® line, Stay Away® Rodent joins the brand's Stay Away® Ants, Spiders, Moths and Mosquitoes products. EarthKind® products are available at retailers nationwide, such as Lowes, Tractor Supply, ACE Hardware and Target, and can be purchased online at http://www.earthkind.com
Media interested in receiving additional information or to speak with CEO/Founder of EarthKind, Kari Warberg Block, please contact Sara White at sara@adinnyc.com or 212-693-2150.
About EarthKind®
Founded by leading pest prevention expert Kari Warberg Block, EarthKind® is a pioneer in natural prevention for families and households everywhere. EarthKind is a pest prevention brand that manufactures naturally powerful and effective pest solutions that keep pests away, without killing or poisoning them. All EarthKind® products are designed by inventive artists, scientists and engineers who care about the earth, made in the USA with 80% of the materials sourced from American farms and the company is providing handicapped individuals with meaningful employment.Kari was awarded the 2019 GMDC Retail Champions of Change award for her role as an inspirational industry retail leader, and was named to the EY Entrepreneurial Winning Woman Class of 2012, 2013 ND SBA Small Business Person of the Year and National Second Runner Up. Her latest product line, Stay Away® was the winner of the 2015 NEXTY People's Choice Award for Best New Product of the Year. Learn more at EarthKind.com and on social media: