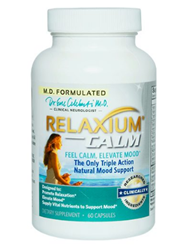 BOCA RATON, Fla. (PRWEB) December 06, 2018
We all know stress is unavoidable, but for those unable to cope with day-to-day life, there are alternative solutions. M.D.-formulated Relaxium Calm is a dietary supplement developed to promote relaxation and elevate mood.
Relaxium Calm's main ingredient is Sensoril®, an extract of the ashwagandha root. Ashwagandha is a powerful herb that has been utilized for centuries by practitioners of eastern medicine as support for anxiety. When tested in a third-party clinical trial, 70% of subjects consuming Sensoril during a 30-day period reported a reduction of stress when compared to the placebo group. Beyond that, 76% of subjects consuming Sensoril noticed a significant reduction in irritability over the course of the trial while the placebo group experienced minimal change.
"Considering the fact that they can be addictive, prescription SSRIs possess a wide array of dangerous potential side effects. With that in mind, I created Relaxium Calm as a natural way for my patients to manage stress and anxiety," said Dr. Ciliberti, esteemed clinical neurologist and formulator of the Relaxium product line. "I have 25+ years of experience in prescribing both herbal and traditional medicines and I am confident in Relaxium Calm's ability to support healthy, natural relaxation."
Studies show that both sleeplessness and anxiety are often caused by serotonin deficiency. By combining Sensoril with other powerful natural ingredients—like GABA, passion flower, and 5-HTP—Relaxium Calm aims to promote serotonin production. Relaxium Calm was also carefully formulated to complement the brand's marque product—Relaxium Sleep. Both products work in conjunction to balance mood and support sleep.
To purchase your own bottle of Relaxium Calm, please visit: https://www.relaxium.com/product/relaxium-calm/
About Relaxium
Dr. Eric Ciliberti, founder of the American Behavioral Research Institute, is a neurologist who has been helping patients suffering from both sleep and mood disorders for over 20 years. In an effort to assist patients suffering from sleep issues without prescribing potentially harmful pharmaceutical drugs, Dr. Ciliberti formulated his premiere product—Relaxium Sleep—to provide patients with an all-natural natural dietary supplement to reduce sleeplessness, stress and anxiety, boost daytime energy, and enhance focus and concentration. Based on positive consumer response, Dr. Ciliberti made the decision to expand the Relaxium product line by developing Relaxium Calm--a dietary supplement designed to offer natural mood support and promote relaxation—as well as FocusMax—a dietary supplement designed to provide cognitive support and promote healthy brain function. All Relaxium products are made with 100% natural ingredients. For more information on Relaxium's complete product line, please visit https://www.relaxium.com/.