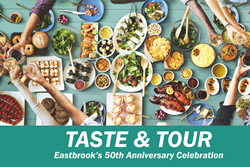 "We don't see it as a way to sell homes, but just to celebrate with our existing customers, have fun with our partners, introduce great local non-profits, and showcase the community at large to those we have not met before." - Mick McGraw
Grand Rapids, MI (PRWEB) August 22, 2017
To celebrate 50 years in business, Eastbrook Homes has announced a series of sixteen Taste and Tour events set to take place across West Michigan and the Greater Lansing area from September 21-24, 2017.
The celebrations all include free food and drink provided by local restaurants, breweries and bars, as well as the chance to win prizes. In lieu of charging admission, Eastbrook Homes is asking guests to donate to the local non-profits event partners, with all donations being matched by Eastbrook.
"We are grateful to have had the opportunity to start and grow our business over the past 50 years across West Michigan. It would never have been possible without the support of the community, so this is our way of celebrating and saying thank you at the same time," said Bob Sorensen from Eastbrook Homes.
By matching donations from the event, Sorensen shared that they have set a goal of raising $80,000 for local non-profits. Every Taste & Tour location has been paired with a different non-profit organization that helps meet the needs of families and children throughout the community.
Event locations are spread throughout the region: on the lakeshore between Whitehall and Holland, surrounding Grand Rapids, and over to the Greater Lansing Area. The events are scheduled to run from 4:00-8:00pm on Thursday and Friday and 12:00-4:00pm on Saturday and Sunday. "We wanted to open these events for several days to ensure as many as possible are able to join us in celebrating while we also raise money to improve lives," Sorensen added.
Established in 1967, Eastbrook Homes started as a residential home builder in Grand Rapids. They have since grown as both a home builder and a community developer while expanding their projects across West Michigan and more recently into Alabama.
For more information on the Taste & Tour events, please visit the Eastbrook Homes website or contact Bob Sorensen from Eastbrook Homes at 616-455-0200.