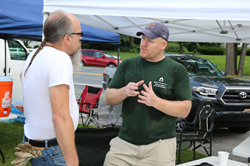 It's important for every worthwhile organization to find ways to get involved in the community and give back ... Veterans hold a special place in our hearts – many of our franchisees are veterans and we work with veterans every day – so this project was particularly special. - Greg Platz
Coplay, PA (PRWEB) August 13, 2019
When members of the Veteran Build Project team met Bud, the veteran they wanted to honor in 2019, they were struck not only by the depth of his continuous service, but also by the opportunity they had to help someone who had given so much. But Bud's home needed more than the project team had completed in the past – and they needed professional guidance and assistance.
After months of planning and fundraising, and with the help of TruBlue Total House Care of Easton and more than 20 volunteers, the 2019 Veteran Build Project was completed on August 3. The team made significant repairs on Bud's home, including bathroom and flooring repairs, widening doorways and hallways to make room for a wheelchair, making handicap-accessible upgrades and more.
"Our organization has built a strong rapport with the veteran community and, when we were looking for a veteran to honor in 2019, the Order of the Purple Heart introduced us to Bud. Bud has dedicated his entire life to service – he has put his life on the line for his country and for his community. He has sacrificed so much and he deserves to be taken care of, honored and respected. This project was just one small thing we could do to show our appreciation for all he has done for us. He's a superhero!" Coyle said.
Bud is a decorated United States Army Veteran and a former Philadelphia Police Motorcycle Officer. He was a Ranger in the Army in Vietnam and then served in Korea as a Staff Sergeant. During his time with the Army he was awarded the Purple Heart, the Silver Star and the Bronze Star. He also has four commendations from his time as a police officer – two Heroism Commendations, one Bravery Commendation and one Valor Commendation. Bud continues to serve his community in many ways, especially through the Military Order of the Purple Heart – he does the Monday Coffee for veterans at the Veterans Administration and he's the JROTC and ROTC Coordinator for the organization.
The Veteran Build Project is led by Bethany Church in Macungie, PA. Bethany Church hosts an annual Ride for Freedom and Tribute to Our Freedom Concert to honor and promote veteran ministries in the Lehigh Valley. All Veteran Build Projects are supported through community fundraisers and donations and projects are generally completed by teams of community volunteers. Coyle said they needed to raise $2,000 between the organization's motorcycle ride and concert to make all the repairs and upgrades they wanted to for Bud, but even with the money, they couldn't move forward without professional guidance.
"This was a bigger, more complex project than we've done in the past – this wasn't building a ramp or mowing the lawn. There were more strict building and housing codes to follow and we wanted to make sure the repairs were done right. Without TruBlue, we wouldn't have been able to move forward with this project. We needed their professional guidance and assistance for this to be possible," Coyle said.
TruBlue is a full-service company that provides handyman, house cleaning, emergency repairs, yard/lawn care and seasonal services that are perfect for busy families, seniors and anyone who want the comforts of their own home without worrying about critical property maintenance. TruBlue of Easton serves Bethlehem, Easton, Hellertown, Nazareth, Pen Argyl, Riegelsville, Wind Gap and the surrounding areas.
"I heard about the project through a mutual connection at a local BNI meeting and I thought this would be a great opportunity for TruBlue to make a difference for someone who has dedicated so much of their life to serving our country and our community. This particular build had more detailed handyman work as well as projects that needed to meet housing codes, so it was important that the volunteers had a professional to work with throughout the project. We were thrilled to be able to provide that service," Brethour said.
To assist those with ongoing home care needs or who want to take property management off their plates entirely, TruBlue has a monthly House Care Plus program, which enables clients to hire TruBlue to provide regular, monthly maintenance. TruBlue also works with homeowners, realtors and rental property owners who need to quickly get homes move-in ready and keep them maintained, and has commercial services for business clients.
On TruBlue's side, this project is part of their philanthropic TruBlue to the Rescue program. As part of TruBlue to the Rescue, Brethour is donating the technician's time and expertise, both during the build date and on any time needed to build plans and estimate materials.
"It's important for every worthwhile organization to find ways to get involved in the community and give back, which is why we created TruBlue to the Rescue in the first place. Veterans hold a special place in our hearts – many of our franchisees are veterans and we work with veterans every day – so this project was particularly special," TruBlue President Greg Platz said.
All TruBlue employees are licensed, bonded and insured. To learn more about TruBlue of Easton, call (484)207-0060, email Easton@TruBlueHouseCare.com or visit http://www.TruBlueEaston.com.
If you are interested in donating to a future Veteran Build Project, there is a designated fund set up for the Ride for Freedom at Bethany Church, Macungie. All money donated to that fund is spent directly on helping veterans – there are no staff costs or overhead. To contact Bethany Church, visit https://www.bethanyumchurch.com/.
About TruBlue
TruBlue provides one convenient and affordable solution for all your house care needs – inside and out. TruBlue's services include house cleaning, household repairs, yard work, emergency repairs, seasonal work and preventative maintenance all handled by a personal House Care Manager. These affordable services are available year-round and customized to meet your needs and budget. TruBlue strives to provide affordable, worry-free living for seniors and hassle-free living for busy adults by providing full-service, trustworthy house care services. TruBlue even offers owners financing for the larger remodeling and property projects. Watch for TruBlue to the Rescue projects which are designed to reach out to neighbors in need of volunteer assistance.