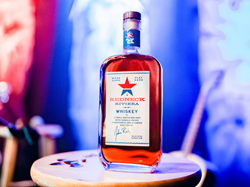 "We are excited to introduce Redneck Riviera Whiskey to Logan's Roadhouse customers," said Jarrett Catalani, Senior Vice-President Sales, Eastside Distilling. "Both brands are rooted in American tradition and share a commitment to the hardworking folks who enjoy their products."
PORTLAND, Ore. (PRWEB) January 21, 2020
Eastside Distilling, Inc. (NASDAQ: EAST), the country's first and only publicly traded craft distillery, recently announced Logan's Roadhouse is now offering Redneck Riviera Whiskey in their "All-American Groupie" cocktail, in all corporate locations as well as select franchise locations across the U.S. Logan's Roadhouse, based in Nashville, TN, is a popular steakhouse chain known for its upbeat vibe, unique mesquite wood-fire grilling technique, and made-from-scratch rolls. There are currently 200 corporate and franchise Logan's Roadhouse locations throughout 22 states.
"We are excited to introduce Redneck Riviera Whiskey to Logan's Roadhouse customers," said Jarrett Catalani, Senior Vice-President Sales, Eastside Distilling. "Both brands are rooted in American tradition and share a commitment to the hardworking folks who enjoy their products. We look forward to growing this relationship."
The All-American Groupie cocktail is made with Logan's Original Tito's Electric Lemonade, Apple Pucker and Redneck Riviera Whiskey. This limited-edition Groupie lets us all "chip in while we throw one back," as Redneck Riviera Whiskey donates 10% of every bottle sold to Folds of Honor.
Redneck Riviera Whiskey is a collaboration between Eastside Distilling and John Rich, the multi-platinum country-music artist and one-half of the country superstar duo Big & Rich. John Rich is personally involved in promoting the brand, and together with Eastside's team have made Redneck Riviera Whiskey one of the fastest-growing brands in beverage history.
Launched in February 2018, the original Redneck Riviera Whiskey is now distributed in 40 states throughout the country. Due to its success, companion products Granny Rich Reserve, an aged premium Whiskey has been produced and in distribution throughout the U.S., and a new wine-based ready-to-drink canned product Howdy Dew, which continues to sell-out in grocery stores through the Midwest. In addition, a holiday value pack called the Redneck Riviera 2020 Survival Kit is setting sales records in the lead up to the holidays.
About Logan's Roadhouse
Logan's Roadhouse is a leading steakhouse headquartered in Nashville. Offering mesquite wood-fire grilled steaks, signature yeast rolls, and American-inspired signature favorites for 28 years, Logan's has 200 corporate and franchise restaurants in 22 states. For more information, visit logansroadhouse.com and follow Logan's Roadhouse on Facebook, Twitter and Instagram.
About Redneck Riviera Whiskey
Redneck Riviera, John Rich's privately held lifestyle brand, celebrates America's hard-working men and women. Built for people who live to turn up the music and have fun with friends and family, Redneck Riviera is America's 'Work Hard, Play Hard' brand that offers something for everyone who likes to rock the red, white and blue all year long. Launched in 2014, the brand brings these values to life through footwear, apparel, hospitality, food, spirits, and licensed products in a variety of categories. Redneck Riviera has expanded its reach with the opening of a honky-tonk bar. More information can be found here.
About Eastside Distilling
Eastside Distilling, Inc. (NASDAQ: EAST) has been producing high-quality, award-winning craft spirits in Portland, Oregon since 2008. The company is distinguished by its highly decorated product lineup that includes Redneck Riviera and companion brand Granny Rich Whiskey, Burnside Bourbons and Rye, Portland Potato Vodkas, Hue-Hue Coffee Rum, and newly acquired Azuñia Tequila. All Eastside spirits are crafted from natural ingredients for quality and taste. Eastside's Craft Bottling + Canning subsidiary is one of the Northwest's leading independent spirit bottlers and ready-to-drink canners. For more information, visit eastsidedistilling.com and follow Eastside Distilling on Twitter and Facebook.
Important Cautions Regarding Forward-Looking Statements
Certain matters discussed in this press release may be forward-looking statements. Such matters involve risks and uncertainties that may cause actual results to differ materially, including the following: changes in economic conditions; general competitive factors; acceptance of the Company's products in the market; the Company's success in obtaining new customers; the Company's success in product development; the Company's ability to execute its business model and strategic plans; the Company's success in integrating acquired entities and assets, and all the risks and related information described from time to time in the Company's filings with the Securities and Exchange Commission ("SEC"), including the financial statements and related information contained in the Company's Annual Report on Form 10-K and interim Quarterly Reports on Form 10-Q. Examples of forward-looking statements in this release may include statements related to our strategic focus, product verticals, anticipated revenue, and profitability. The Company assumes no obligation to update the cautionary information in this release.
Company Contacts:
Eastside Distilling
Robert Manfredonia, President
971-888-4264
inquiries@eastsidedistilling.com
Joe Giansante, Senior VP, Marketing/PR
541-357-0577
Investors:
Robert Blum, Joe Diaz or Joe Dorame
Lytham Partners, LLC
(602) 889-9700
east@lythampartners.com