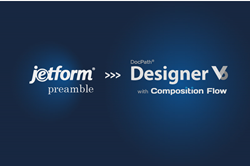 Therefore, JetForm® users have the opportunity to replace it quickly and securely with a leading Customer Communications Management solution.
SUWANEE, Ga. (PRWEB) February 08, 2023
To create dynamic forms, JetForm used a programming-based form logic called Preamble. The complexity of this programming never made it easy for entities to maintain these dynamic forms. This, together with the fact that JetForm does not have any type of support, making it advisable to look for a substitute for document generation in order to avoid risks for the organization.
Therefore, JetForm® users have the opportunity to replace it quickly and securely with a Customer Communications Management solution, using the document software offered by DocPath. In this way, advanced functionalities will be achieved while keeping their existing business applications untouched.
DocPath Ontario Suite™ is a Customer Communications Management solution that allows the user to completely replace JetForm. Through the renewed version of DocPath Designer and its Composition Flow mode, it is possible to replace JetForm code (Preamble) with graphical logic in a flowchart-like format.
This makes it easier to understand and maintain, which is essential in case changes need to be made in the future. It also favors the speed of learning the tool, thus having to invest less time and money in training workers in its correct use. In addition, when migrating from JetForm to DocPath, we will obtain an automatic conversion of the templates, completely eliminating the tedious manual migration process that could take several months.
The Customer Communications Management solution proposed by DocPath is constantly expanding and improving its functionalities, achieving a modern solution adapted to the current needs of customers.
Many of these features were not available in JetForm, such as data driven graphics, 2D barcodes, support for full color layouts or even the ability to use different text languages in the same form. In this way, it is only necessary to maintain one version of the form regardless of the desired language in the final document.
In addition, the document generation engine (DGE) included in this Customer Communications Management solution is fully prepared to run in the cloud] included in this Customer Communications Management solution is fully prepared to run in the cloud (SaaS is an option) and deployed in containers (dockers, kubernetes), obtaining greater scalability and security in a solution that uses the most advanced technology. This engine will be in charge of linking the forms programmed in DocPath Designer with customer data, all at an excellent speed to ensure the performance expected by entities that need to issue communications to their customers in a limited time.
JotForm's Preamble code only performs the merging of data and templates, without any other intelligence in the process. This very basic implementation was originally due to the very limited functionality provided by the JetForm software. This approach forced the different sectors using the software to modify the electronic templates manually whenever changes were needed for marketing, legal, etc. reasons.
Thanks to the automatic replacement of JetForm to DocPath, the customer will not need to make changes to the existing implementation, being able to upgrade the installation without disrupting current developments, converting JetForm templates and engine to DocPath templates and engine, without conflicts.
The JetForm to DocPath Ontario Suite migration solution offers a great improvement in the client's daily operation by centralizing document generation to a single location, minimizing the risk of an office using obsolete template versions or being unable to provide the necessary documents for a new product. The simplicity of the migration, and the consequent reduction of complexity in the operation of the document software leads to great savings.
DocPath's experience in replacing JetForm goes back more than 20 years. In short, the Customer Communications Management solution is the only option for any company wishing to make a simple migration from JetForm to a more visual, continuously improving, flexible and intuitive software.
In addition, customers have the support of DocPath's technical and consulting teams, who will facilitate the migration to ensure a successful implementation. For these reasons, DocPath has become the ideal provider for any company looking for tools that facilitate the management of communication with its customers.
See more details about DocPath's solution for JetForm replacement...
About DocPath
DocPath is a leading enterprise document software company that offers its international customers the technology that allows them to complement their ERP and implement advanced Document Output Management, Customer Communications Management and document software pooling processes] and document software pooling processes.
Founded in 1993, DocPath is based in Europe, USA and Latin America and is present with its Solutions in companies around the world. Among its customers there are prestigious banks and top-tier corporations, facilitating the difficult and complex task of designing, generating and distributing their business-critical documents. DocPath keeps a strong commitment to R+D+i, an area to which it allocates a large part of its revenues, and in which lies one of the keys to its success.
For more information, visit: docpath.com.
Legal Notice: DocPath is a registered trademark of DocPath Document Solutions. All rights reserved. Other trademarks mentioned herein might be the property of their respective owners.